When using the print, users may find that
the fonts on the printed output do not meet expectations

. 


You may need to experiment with the font settings for each of these components to see if this results in better results. Not only with Windows 10 it happens that some fonts are misinterpreted by the printer. Here you have to dodge an alternative font that is similar to the corresponding incorrectly printed font and yet meets their wishes.



Content / Solution / Tip:
1.) Search the Internet for a similar font!
1. Search on the Internet using the search engines for a similar font for example search term
comics font alternative
, or
Lucida font alternative
. You will see that you can quickly find acceptable alternative fonts. You can also
search for similar fonts already installed
on Windows .
2.) Install the new font under Windows!
Open the
Windows Font folder
. Please use the keyboard shortcut [Windows + E] and enter address:
shell:fonts
, or 
%WINDIR%/Fonts 
optionally also shell:fonts  or
C:\Windows\Fonts
(Image-1) Reinstall similar font that not printed correctly under Windows 10!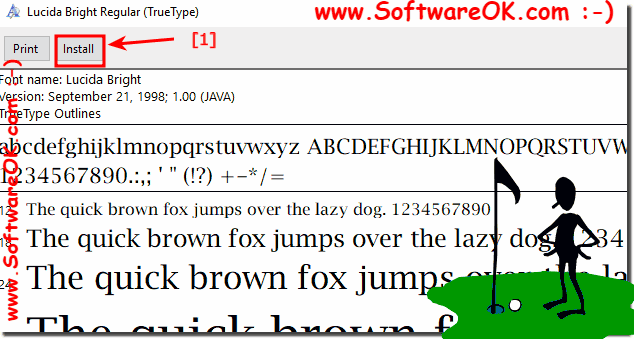 3.) What should I keep in mind when using new fonts?
Note that if possible, install the most commonly used fonts: TrueType, OpenType, and PostScript. In addition, any free font you download may not normally be used for commercial purposes without the permission of the author of the font. 
Tips:

1. Using different font sizes in your designs helps to create a hierarchy, the order in which the text is read. 

2. The best way to limit yourself to two fonts, but if you are ambitious, there may be up to three different fonts. Please keep in mind that using too many font sizes and font styles can also destroy any page layout.

3. Remember the fonts to use, better save them in the same folder as the document, or on a USB stick, so there is no problem with other operating systems, whether Appel's Mac OS, or Linux, and you They can also be quickly installed there.