Change the Windows 11/10 desktop wallpaper even without activation, it's really really easy!
How to change Windows 11 or 10 desktop wallpaper without activation!
There are at least two or three ways to get around this limitation and set the image you want as your desktop background on the Internet, here is the simplest method of what you need to do.
1. Use / start the file explorer.
Windows+E
2. Open File Explorer and navigate to the folder where you save your background images.
If you want to access standard Windows 10
 wallpapers
, they are located in the following folder:
C:\Windows\Web or simply standard backgrounds C:\Windows\Web\Wallpaper\Windows 10

3. Right-click on the desired
wallpaper
for the Desktop

4. Simply define as background (set as desktop background)

(... see Image-1 Point 1 to 4)



(Image-1) Change desktop background when Windows 10 is not activated!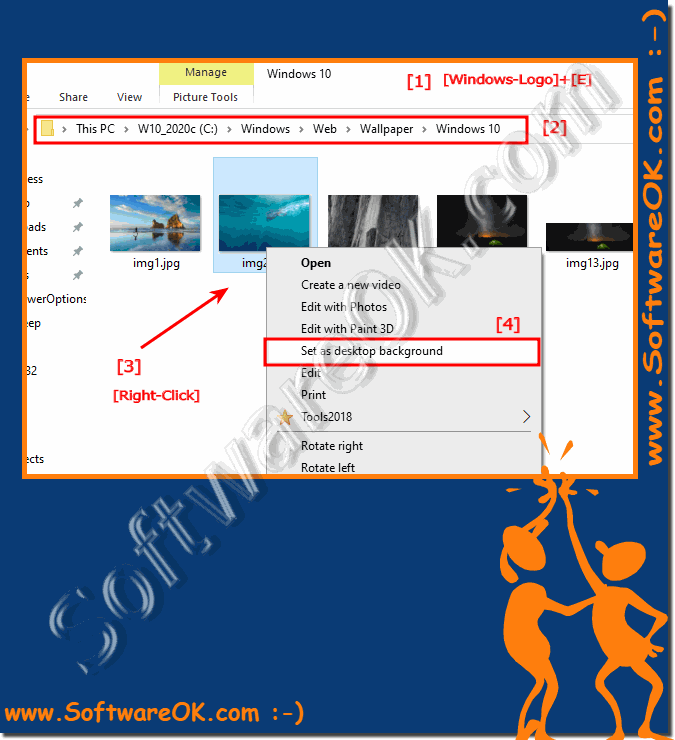 Personalization options like background, colors, lock screen, themes, start and taskbar are greyed out when Windows is not activated. This post explains two ways to change the desktop background in a non-activated Windows installation. On a Windows 10 device that has not been activated, the controls in the Personalize window are locked and the message "You must activate Windows before you can personalize your PC. It is only a matter of time before most users have one Desiring a new desktop wallpaper and changing your wallpaper is one of the first things you normally do after installing a new operating system, but applying your own customizations to an inactive copy of Windows 10 may not be as easy as Microsoft has access blocked on the personalization settings of the software without a valid product license. While most of the operating system can be used free of charge without specifying an activation key, it can be annoying not to have access to the personalization menus if you want custom colors, sounds, settings for the start menu and taskbar, or even just your own desktop settings -Background.