Not everyone likes background images on the desktop, but it is also too easy to display the desktop background in just one color in Windows 11!
Content:
1.) Change the desktop background to just one color!
1. Click with the right mouse button on the Windows 11 desktop
2. Then change the
background
to
full tone color
via
Customize
3. And select the background color for the desktop
(
... see Image-1 Point 1 to 7
)
PS: The
Windows 11 desktop context menu
looks a little different now, but "Customize" is still available! But you can also use the
Windows + i
 keys, then on the right side to
Personalization
, scroll on the right side to Background and open the background options. And also switch to
solid color
!
(Image-1) Windows 11 desktop background in only one color!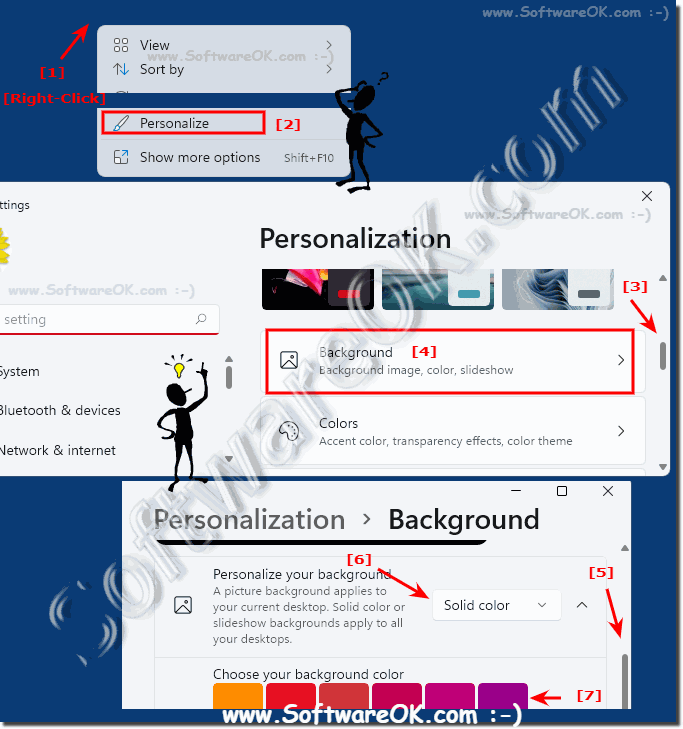 2.) Is changing the desktop background to just one color better?

For heaven's sake, there is no "right" or "wrong" choice when it comes to desktop wallpapers. You should choose what works best for you and what you like. You can change your desktop background at any time to find out which option works best for you. Whether it is better to change the desktop background to a solid color depends on individual preferences and requirements. Here are some considerations:


Benefits of a solid desktop background color:
Solid color backgrounds are minimalist and can contribute to a clean and organized workspace. Solid color backgrounds can be easier on the eyes than images or slideshows because they offer fewer distractions. It's also the case that solid color backgrounds can promote concentration by reducing distractions.
Disadvantages of a monochrome desktop background color:
Monochrome backgrounds can become boring in the long run, monochrome backgrounds can appear impersonal and are not suitable for everyone. Some people prefer a desktop background with an image or slideshow to get inspiration or just see something beautiful.
Tips for choosing the right color for your desktop background:
Choose a color that makes you feel relaxed and focused, and pay attention to color harmony with other elements of your desktop, such as: BB with the taskbar, start menu and other apps. Just experiment with different colors until you find one you like.

Whether it's better to change your desktop background to just one color depends on your personal preferences. If you prefer a minimalist design and want to encourage your concentration, a solid background color can be a good option. However, if you prefer a slightly more personal or exciting design, an image or slideshow may be a better choice.