Auto Hide the Mouse Cursor on MS Windows 11, 10, ... Desktop and Server OS!

Update on: 7 December 2022
Suitable for : Windows 11, Windows 10, 8.1, 7, ... , Server 2012-2019, 2022, x64, x32, x86

AutoHideMouseCursor is a small portable Windows application that allows you to hide the mouse cursor, if this does not move.


Automatically hide the mouse cursor with an adjustable timer, it is the right desktop tool when the cursor is too annoying to them a very popular Tool the category office on SoftwareOK!   


Key Features in Cursor Hide Tool


◆ Hide cursor after adjustable time
◆ Mouse Hiding Classic and New Strategy
◆ Deactivatable via To-Tray

Other specifications and possibilities:
◆ Small in size and low CPU usage
◆ Optional translation function
◆ Portable Windows Tool
◆ Multilingual


For what the AutoHideMouseCursor


Such as when working with word processing programs because often when you enter the text cursor is in the way and obscures the text. Thus one has a clear view on the text, or other programs, you can try this freeware tool though, as no installation is required, you can also delete it if not satisfied very quickly, without leaving traces on the computer.

You can find some very helpful information in
► ... The AutoHideMouseCursor FAQ

Info for Software Tester :-) Not working to 100% on Remote-PC or Virtual-PC!



Auto Hide Mouse Cursor installation


The mouse cursor tool does not have to be installed, can be easily started from the desktop without installation and can be used immediately on all Windows operating systems.

Simply download the mouse cursor hiding tool, open the archive with copy / paste on the desktop and use it. If you don't like it, just exit the program and delete the AutoHideMouseCursor.exe.



(Image-1) The Auto Hide Mouse Cursor Tool for Windows Desktops and Server!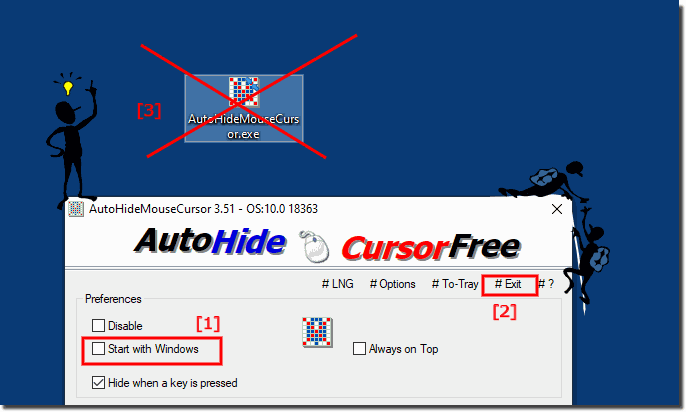 Tip:
The mouse cursor hiding tool is absolutely sufficient, if you are familiar with portable applications you can also use the portable version, the x64 currently does not offer any functional advantages in this program, so the x32 can be used conveniently to hide the Windows mouse cursor.




Usable on, and Supported OS


The auto hide mouse cursor feature is suitable for: Windows 11, Windows 10, Windows 10 Pro, Windows 10 Enterprise, Windows 10 Home, Windows 8.1, Windows 8.1 Enterprise and Pro, Windows 8, Windows 8 Enterprise and Pro, Windows 7, Windows 7 Enterprise, Windows 7 Home Basic, Windows 7 Home Premium + Professional, Windows 7 Starter + Ultimate, , X64, x86 and x32 all Windows, MS Windows Server 2019, 2016,2012, .



# AutoHideMouseCursor Versions History


New in version 5.41 // 7 December 2022
New: Mouse tolerance when showing the mouse cursor
Update language files in mouse cursor auto hide tool



New in version 5.33 // 5 October 2022
Verification and testing of the auto hide mouse pointer tool on Windows 11 22H2
General fixes and small tweaks in auto-hide-mouse-cursor



New in version 5.22 // 24 August 2022
Improvements to hiding the mouse cursor in various strategies
Important adjustments in the application to automatically hide the mouse cursor for older MS Windows NT operating systems



New in version 5.11 // 12 July 2022
Improvements when used on Windows 11 and working in MS Office products
Small adjustments and updating of the language files



New in version 5.05 // 9 June 2022
Improvements when used on dual screen monitors for all MS Windows operating systems
Important update of the language files in the Auto-Hide-Mouse-Cursor application




... complete Versions History




# AutoHideMouseCursor is multilingual and a popular program worldwide:

Program Keys:


Use of the mouse cursor hide tool on Windows
Who has problems with hiding the Windows mouse cursor, or simply out of curiosity, wants to test an alternative mouse cursor fading tool on Windows or even want to test it on the Windows TV, since it already has TVs with PC connection mini PCs with Windows 10 there will definitely be satisfied with this mouse cursor hide out tool for all Windows Desktop and Server OS.
* Auto Hide the Mouse Cursor on MS Windows 11, 10, ... Desktop and Server OS!
---
Info+ # Thanks+