Content:


1.) Start the Windows Recovery Tools!
To create recovery drive for Windows-8, please start (open) the "Recovery Tools" in Windows-8!

press the key combination [Win-Logo]+[R], then simply type the command


control.exe /name Microsoft.Recovery

  (... see Image1-1). 



(Image-1) run recovery in Windows-8!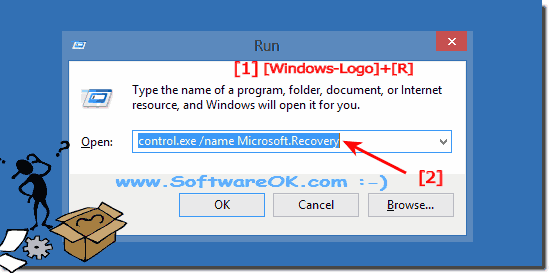 HOT-TIP: ... alternative to the standard Windows Run-Dialog.
2.) The possibility's in Recovery Tools!

In "Recovery Tools" (... see Image-2) click the text "Create recovery drive".

This will start the "recovery drive wizard" (... see Image-3) for Windows-8! The drive must be able to hold at least 256 MB, and everything on the drive will be deleted. You can use DVD-R/RW, CD-R/RW, USB ....

In "Windows-8 Recovery", you can also, open the system restore and configure System Restore

Tip: ► ... manually create in Windows 8 a restore point!




3.) The Recovery drive Wizard in Windows!
You can use a recovery drive  to refresh or reset your PC, or to troubleshoot problems, even when it can't start. If your PC comes with a recovery partition, you can also choose to copy its contents to the recovery drive.
(Image-3) Recovery drive Wizard Windows-8!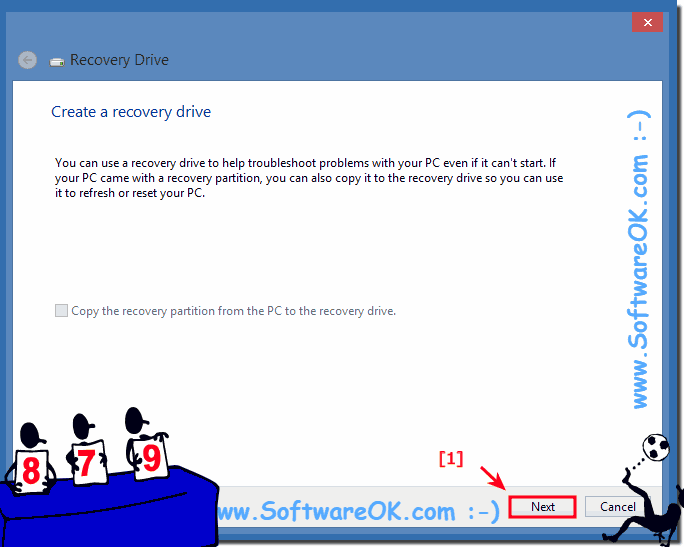 Restore system files and settings
System Restore can help fix problems that might be making your computer run slowly or stop responding.
System Restore does not affect any of your documents, pictures, or other personal data. Recently installed programs and drivers might be uninstalled.

Configure System Restore
You can undo system changes by reverting your computer to a previous restore point.

-Configure
Configure restore settings, manage disk space, and delete restore points.
-Create
Create a restore point right now for the drives that have system protection turned on.



FAQ 27: Updated on: 19 October 2018 16:36