To extend the test period or to use Windows 10 without activation, you can continue to use the slmgr -rearm even with Windows 10 Home and Pro!


But, currently the trial period extension is under Windows 10 not required, also for a Legal Windows 10 Download! 



1.) Extend trial test period on Windows 10! 
The command

slmgr -rearm

is actually provided, even if the hardware has been not replaced on the PC to enable reactivation with a new product key (Key). Thus, you have an additional three times, new 30 days for the new activation.

After the period 4 x 30 days = 120 days, you must purchase an ► Windows 10 License Key Lifetime  (~15 to 30 $ or a full version ~100$), you can also ►  ... reinstall the Windows 10!

For example 

►

 with a new Windows-10 product key.

See also: ► Product Key in Windows 10  ► Disable Password in Windows 10



(Image-1) slmgr -rearm extend the trial period!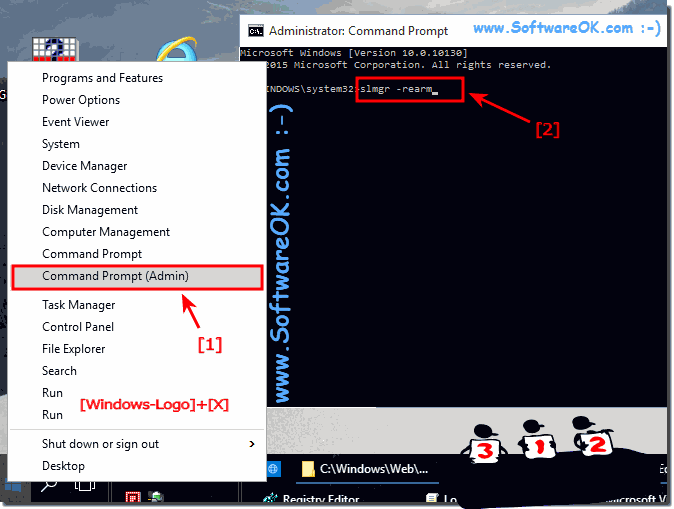 Windows 10 License Key or OEM or Full Version
Windows 10 Full Version = Telephone support and Windows 10 DVD
Windows 10 OEM = Windows 10 DVD / no Telephone support
Windows 10 OEM = ISO Download  /  No Telephone support no Windows 10 DVD

ENGLISH:
Windows 10 Full Version
Windows 10 OEM
Windows 10 License Key

GERMAN:
Windows 10 Full Version
Windows 10 OEM
Windows 10 License Key





2.) Does windows 10 have rearm count?
How many re-arms do I have left in Windows 10 is a question of many users,  thus, you have an additional three times. If yo do a new Installation again three!


See this: ► Clean Installation of the Windows 10, how to do?

Top User Questions:
How long can one use a fresh Windows 10 install without product!
How to Use Slmgr to Change, Remove, or Extend Windows
How to Find Windows 10 Licensing Information about Rearm Count


Command to see the Rearm Count is  slmgr /dlv



(Image-2) rearm count!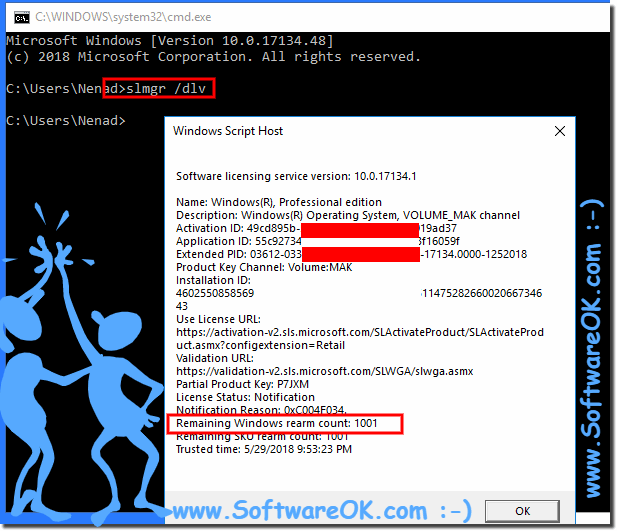 3.) for what is Slmgr-rearm good in Windows 10 ?
This test period extension command can also be used for what it is intended, and that is in case of hardware changes, graphics card, hard disk replacement or expansion of the memory to allow the Windows -10 computer with a valid product key can be properly activated. 
Otherwise would be 
a clean installation of Windows 10
required. 
Note: 
There is no hacking, you can also use this trial extension extension under Windows 11, 10 Pro, Enterprise, Home, Windows 8.1, Windows 8, Windows-Server 2019, 2016, 2012, Windows 7 Basic, Professional, Starter, Ultimate is a nice Windows Microsoft Tool for all User Accounts.  
FAQ 75: Updated on: 5 August 2022 17:54