Solution to change drive letter name in MD Windows 11, 10, ... Desktop OS, this  is also for 8.1 and Microsoft Server OS!
This sleek solution for changing the drive label is not only suitable for the latest Microsoft Windows operating system, it can also be used on Windows Server 2019, 2016, .... Some renaming actions may require
administrative rights or permission
to rename drives!
1.) Fast renaming of the drives via the file Explorer!
Please start the MS-Explorer, for Example via

Windows-Logo + E

keyboard shortcut. Please select the Drive / Partition. Via right click open the Context Menu and select Rename.

To personalize the windows computer in this case, change the volume name of the HDD in this example is the default name system, use your personal and individual name for the partition, the windows 10 can works whiteout problems if you change the label name.  



(Image-1) Rename Partition eg Drive on Windows 10!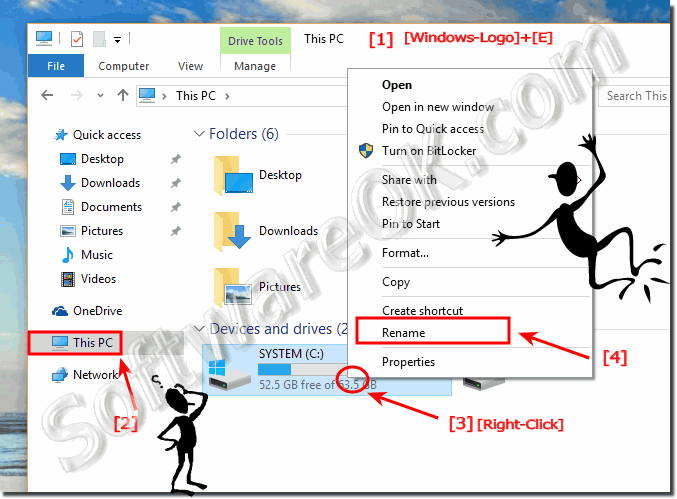 2.) Renaming from Windows Disk Management!
For this second solution please start the disk management tool in Windows, the fastest way with keyboard shortcut [Windows + X] and the option "Disk Management"! 
In disk management, select the drive (volume) on which the drive letter you want to modify. 
Appears by right clicking the letters context menu, with the option
"change drive letter and paths"
, then simply click the button change! (
... see Image-2 Point 1 to 3
)
Via option "Properties" easy change the Drive Name (
... see Image-2 Point 4
)
(Image-2) Change drive letter name in windows!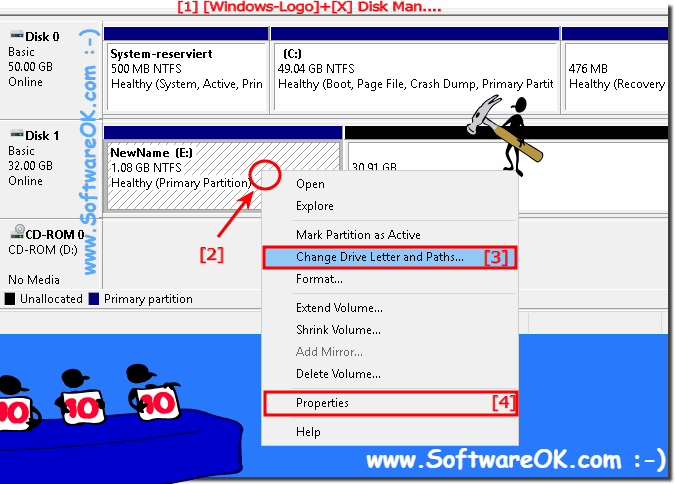 3.) What should I consider when renaming the drives under Windows?
If several operating systems are on the same computer, for example Microsoft Windows, Linux, Apple's Mac OS, goggles Android These changes will be valid for all operating systems!   
If you have drive paths for example from E: to F: Change and on which software and program are installed, the corresponding software can no longer function properly aussee it's
portable applications
! 
FAQ 118: Updated on: 23 September 2022 10:13