You can easy force to move or to copy the data while dragging in each Explorer View of Q-Dir, Is like drag and drop in MS Explorer!


Copy force with [CTRL] + Drag
Moving force with [SHIFT] + Drag

Other:
CTRL while dragging an item (Copy the selected item)
CTRL+SHIFT while dragging an item (Create a shortcut to the selected item)
SHIFT+DELETE (Delete the selected item permanently without placing the item in the Recycle Bin)

Please use ... always the newest Version of the file explorer Q-Dir! 

More about keyboard shortcuts:
► Windows/keyboard_shortcuts/xp/en
► windowshelp.microsoft.com
► www.microsoft.com!


(Image-1) force move or copy of the data while dragging!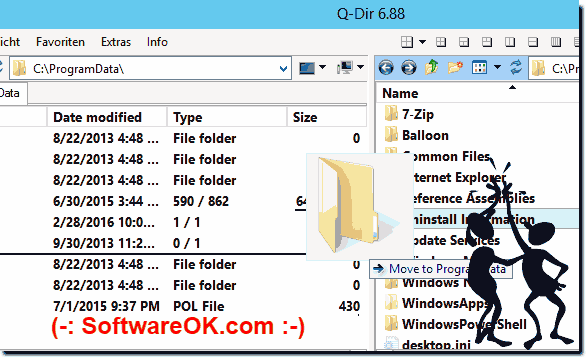 FAQ 49: Updated on: 2 March 2018 14:15