It´s very simple to start the file manager with your favorite settings, to open favorite folders in Quad-Explorer Views!

Starting with a favorite setting is very popular for the Q-Dir users, so that all four File Explorer lists views and other settings will be saved as a Desktop *.qdr configuration file then, for example directly start the folder combination from the Windows Desktop, no matter if it is Windows 10 Server 2016/2012 and older Windows Microsoft operating systems (PS: MS-DOS-Not)!


1.) For installed Q-Dir!
1. Open the Favorite-Folder combination in Q-Dir in this Example

4 x This PC

on MS Windows 10, ...

2. And then click on the menu File ►Save Current State at Desktop Item

3. And use this item to start Q-Dir.

Note: You can have several favorites settings on the desktop and use them to start Q-Dir.



2.) For portable Q-Dir without register *.qdr
Please create a bat file! For example 4xC.bat and start Q-Dir via 4xC.bat! (... see Image-2 Arrow-1 and 2)!



(Image-2) Start Portable Q-Dir with a favorit setting!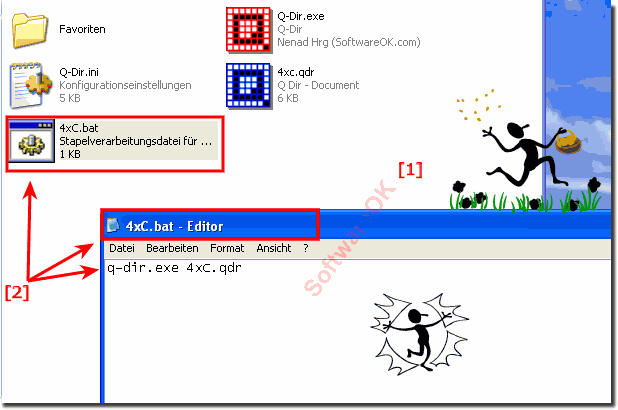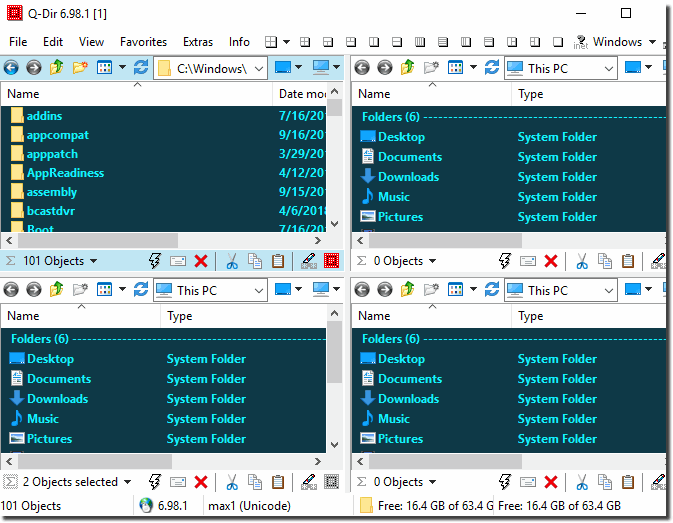 3.) Caution with Windows 10 save on the desktop (*.qdr)!
This can cause problems due to the Windows 10 folder protection!

I'm still looking for the solution. Or you can temporarily disable Windows 10 Defender when creating the desktop QDR files.

Or ►    Exclude a folder from Windows 10 Defender!





In Quad Explorer you can save your favorite folder combinations as favorites so that you can open them at any time. Up to 64 folder combinations can be saved in a favorite, since each of the four windows is equipped with tabs (tabs) (i.e., 4 x 16 tabs). 





4.) Save option with last view Check!
(Image-3) Quad Explorer with the last setting Start all Explorer views!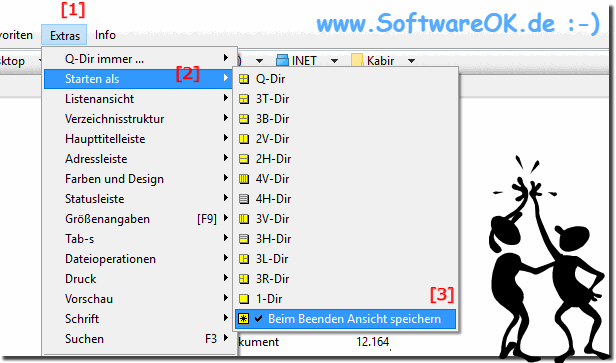 FAQ 4: Updated on: 3 December 2022 17:11