You can still mark the selected folders and files in the 4 Explorer while navigating back and forth, even on Windows 10 and 11!



 

In Microsoft's (c) Windows File Explorer it is no longer possible for the marked files to be retained when navigating forwards and backwards. Friends of classic navigation will get their money's worth here, because anyone who has known it knows for what it this good, for If you don't know it, you can't do anything with it, which is why in

Quad Explorer

you have free choice in this important decision whether you want to use it or not! 

 

Content:




1.) It is possible to mark the selected folders and files during navigation!

For options via the General tab,  simply click the option "... auto as with MS Explorer" .

Then it should work under Windows 10 and 8.1;).


(Image-1) Keep selected files at forward and back navigation!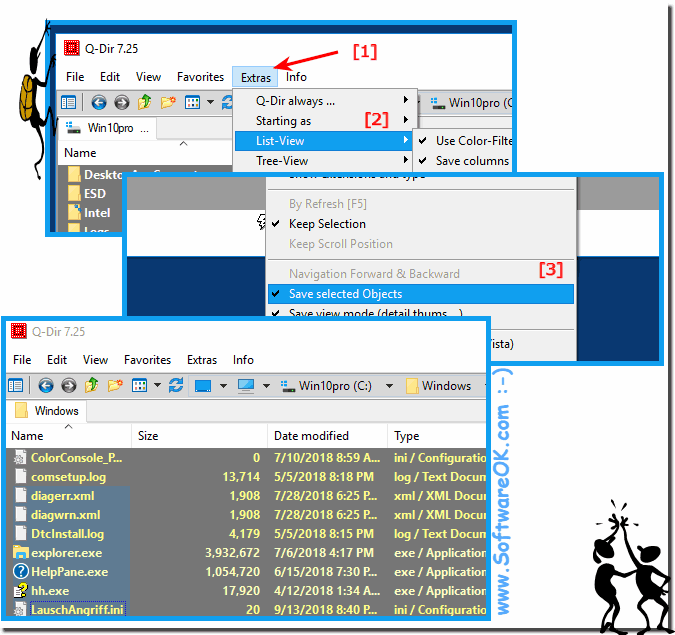 Info:

As you can see from the screenshot taken under Windows 10, you can activate this option that marked folders and files remain marked during navigation and continue to be marked.For Windows XP, this was a standard function in File Explorer, which is now is no longer available in Window 10. However, you can use this solution in Q-Dir without any problems on earlier versions of Microsoft's Windows operating systems, regardless of whether it is a Windows desktop, tablet, Surface Pro / Go, or even a server operating system. Sometimes it really makes sense and is advantageous that marked folders and files remain marked during navigation back and forth.




Info: Marking the files or directories correctly

To select successive files or folders, click on the first item, press and hold down the SHIFT key while clicking on the last item. If you do not want to select consecutive files or folders, hold down the CTRL key and then click on any desired object.



2.) What should I consider when marking files when navigating?
With many marked files from 1000 there may be delays, with one of the reasons why it was deleted in the original MS File Explorer!

But otherwise, with more acceptable computing power, no disadvantage at all through this function!
  

3.) Is there another way to use this in File Explorer!
Yes, you can copy entire folders with drag and drop, including marking and navigation history, which you won't find in any file explorer, far too complex and can lead to crashes, as a programmer you don't usually do that.

But I'm not the rule ;-)  



(Image-3) Drag and Drop Tabs copy Tab and Selected folders and files in Explorer Tabs!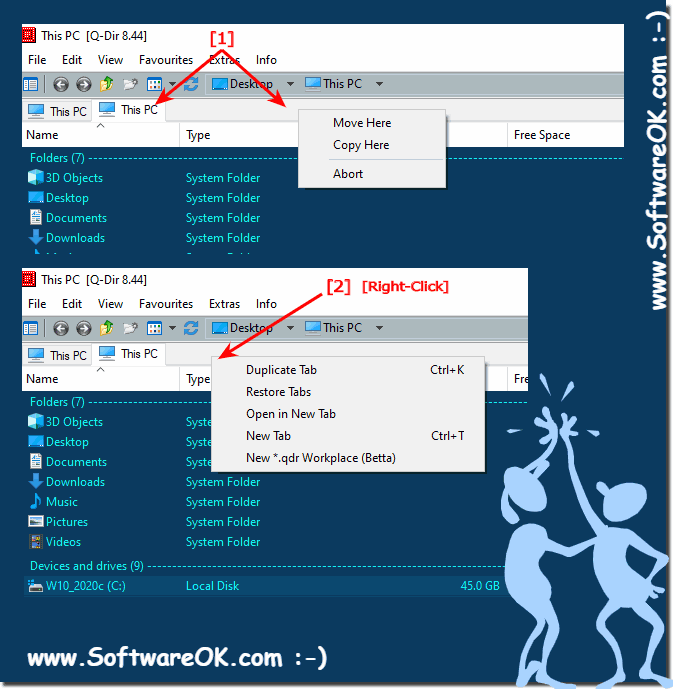 4.) Why so much effort to mark files in the file explorer!
Unlike other software companies that have beta tests, I have to live with the software, but I use it self, so it's also a little selfish than just the "beautifier navigation nation"

I will then try to describe the few released items as far as possible

Please always use the latest version of ... The Windows Filemanager Q-Dir!



FAQ 11: Updated on: 13 July 2021 05:41