To preview images from each explorer View, you can easily activate the image preview in Q-Dir on MS Windows 11, 10, ... etc.!
Click on the main menu item Extras ► Tree-View, and click the ► One 4 all.(Image-1) 

Then you will see the directory structure right!  Click on the button with the magnifying glass

Please use ... always the newest Version of the file explorer Q-Dir! ▼   


You can also change the Preview Filter settings: ► How can i change the preview filter settings?!

See also:
► ... Select folder from List View enable, disable!
► ... how to select non adjacent files in explorer list view? 
► ... Improvements in the file preview and integration of the MS Explorer preview window!




I'm open to improvement suggestions , but

this handy preview does not just work on Windows 10, whether it's on a native Windows desktop computer, the image preview is needed, or on the tablet PC, Surface Pro / Go, or if you're an administrator To preview a specific document for a server.





(Image-1) Preview images an Photos from Explorer View!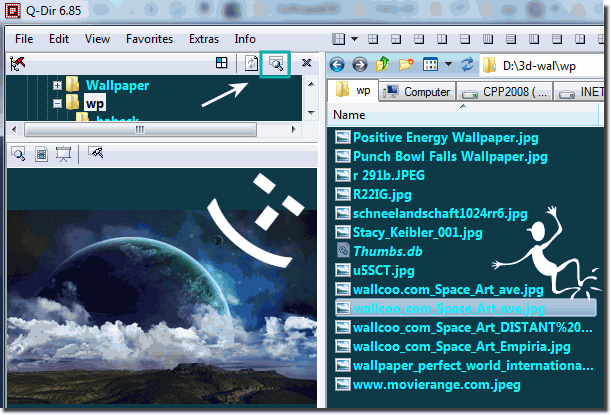 Problems with "Enable Picture Preview"?
What can I do if I still have problems with "Picture Preview" is a frequently asked question Restart the Windows operating system, please
perform a proper Windows restart here
. If the problem with "Enable Picture Preview" still exists, check if you are using the latest
Quad Explorer version
.

FAQ 10: Updated on: 22 December 2021 18:55