A portable use of PointerStick on Windows is possible, and it does not matter whether it is Windows 11 / 10 / 8.1 or Windows 7 or Windows Server!
1.) The Portable Pointer for Windows! 
From Version 3.00
By default is the PointerStick.ini in:


"C:\Users\User_Name\AppData\Roaming\PointerStick\PointerStick.ini"



ergo %appdata%\PointerStick\

For portable use: create or copy in the same directory (PointerStick Work-directory) the file PointerStick.ini.
PointerStick will uses this to save the desktop icon layouts. (Please restart PointerStick)

It is also the case that some users want to move the PointerStick.exe in the standard program directory
C:/Programs/PointerStick

Please don't Save in Protected folders in Windows 10. 

From Version 3.01
If can't write in the PointerStick.ini, auto create an ini file in the %appdata%/PointerStick/PointerStick.ini to save the Desktop Pointer Settings.

Info: Please Run (Windows + R) the Command %appdata% to find this folder!

Important: the Windows 10 is very aggressive to X32 APPs please use the x64 Version of Pointer Stick.



(Image-1) Pointer Stick and Portable x64?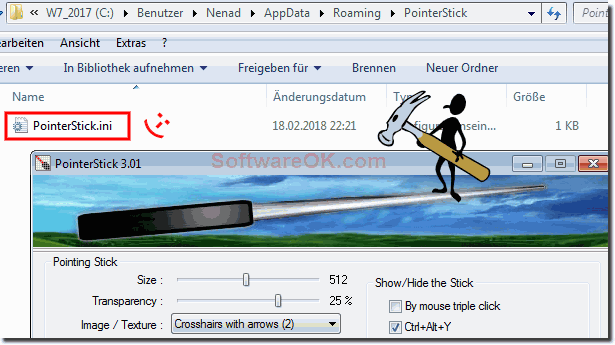 For portable use, please create or copy in PointerStick working directory the PointerStick.ini.

By default, the PointerStick.ini will be created in the folder %APPDATA%/PointerStick


2.) The practical use of the Windows desktop and then away with it! 
If you do not like it or if you are dissatisfied, exit the program as shown in the screenshot example under Windows 10 and delete the PointerStick.exe  and you are free from this tool.  



(Image-2) Remove pointer stick from Windows-10!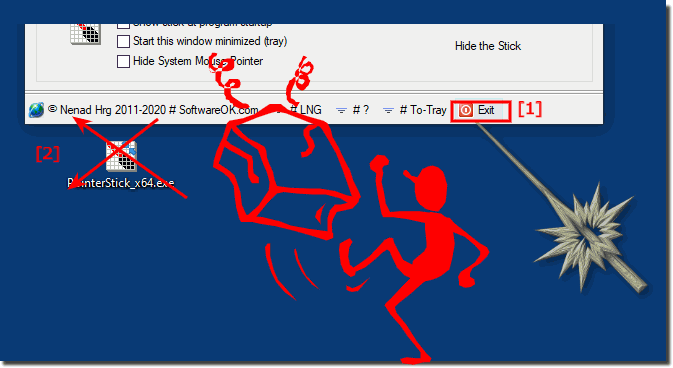 FAQ 5: Updated on: 25 July 2021 09:37