Wireless display is a popular screen display transmission method, not only on MS Windows, but also on MAC and Linux operating systems!


Contents:



1.) Wireless Display and Opening Wireless Display on Windows!
By ►  enabling wireless display on Windows you can project to a TV that Wi-Fi / WLAN must be active to use wireless display!



Launch/Open Wireless Display on Windows!


Check in the adapter settings whether the WiFi is activated, especially if there are several adapters, it may be deactivated. WiFi is required for WiFi Display ! Or simply disable WiFi and enable it again!

►► Disable  / enable WiFi adapter on Windows 11, 10, ...!

1. Then press the shortcut Windows + K 

2. Check whether the wireless display is activated on the TV 




(Image-1) Connect to available wireless displays on Windows 11!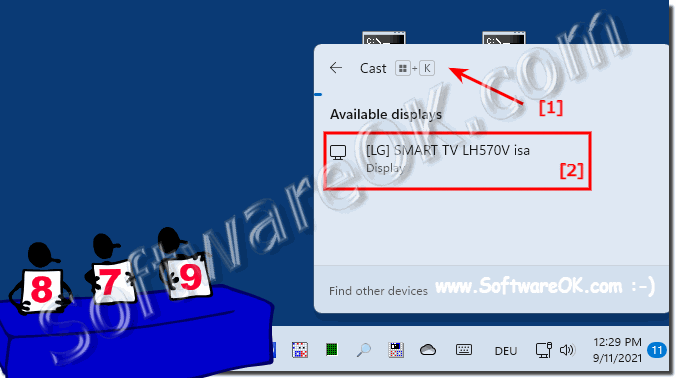 2.) Wireless displays offer a number of advantages over traditional HDMI




A wireless display is a feature that allows content from a computer, smartphone, or other device to be transmitted wirelessly to a television, projector, or other display. The connection between the output device and the wireless display occurs via a wireless signal, which is usually based on the Miracast WLAN standard.




Wireless displays offer a number of advantages over traditional HDMI or VGA connections. They are easier to install and use because no cables are required. They are also more versatile as they are compatible with a wide range of devices.

The function is based on the Miracast WLAN standard. To use Windows Wireless Display, you must first ensure that your PC and wireless display support Miracast. If both devices support Miracast, you can connect.

The advantages of wireless displays are that they are easy to install and use, versatile and wireless.

The disadvantages of wireless displays, the transmission quality can vary depending on the distance and signal strength. The battery life of portable devices can be affected by wireless transmission.

A practical technology that allows the screen content of a device to be wirelessly displayed on another display device such as a television, monitor or projector. This allows users to share content from their mobile devices, laptops or computers on a larger screen without having to use physical cable connections.

There are other wireless display technologies!

The Chromecast is a device developed by Google that connects to the HDMI port on a television. It allows streaming content from a mobile device, computer or tablet to the TV screen.

There's also AirPlay, a technology developed by Apple that allows users to wirelessly stream content from their iOS devices like iPhone or iPad to Apple TV or other compatible devices.




The use of wireless display technologies provides users with flexibility and convenience to view media, presentations or other content on larger screens without relying on physical connection cables. However, keep in mind that compatibility between devices and wireless display standards is important to ensure smooth transmission.







FAQ 261: Updated on: 12 October 2023 19:47