Yes, the premature standby and shutdown, and ... prevent also works on Microsoft's new OS Windows 11!





Also successfully tested on MS Windows 11 22H2!

1.) The standby and shutdown blocker on Windows 11! 
You don't have to do without Don't Sleep with MS Windows 11 and benefit from the advantages of this very popular Windows tool!




(Image-1) Dont-Sleep on MS-Windows-11!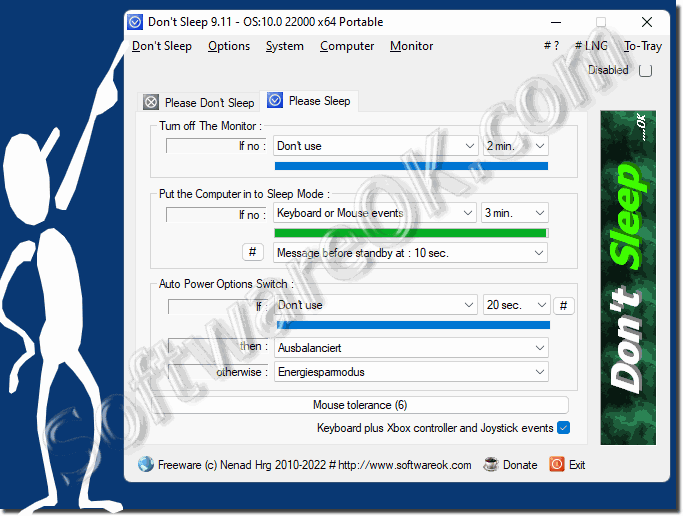 2.) To prevent your PC from sleeping, ... go with Don't Sleep!


1. ► Download the practical Don't Sleep for Windows 11

2. Open as always: the Windows 11 download folder

3. Place it on the desktop (via drag and drop)

4. And simply start the free tool on Windows 11

5. Activate what should be prevented (Point 5)

6. And minimize the tool so that it disappears in the notification area of ​​the taskbar

(... see Image-2, Point 1 to 6)   

More information: ► ... Standby, Shutdown, hibernate, prevent!



Info:

If you then no longer want this, we prevent the Windows 11 computer from going off or going into hibernation. Simply deactivate from the To-Tray area or exit the tool!






(Image-3) Prevent Sleep on Microsoft Windows 11!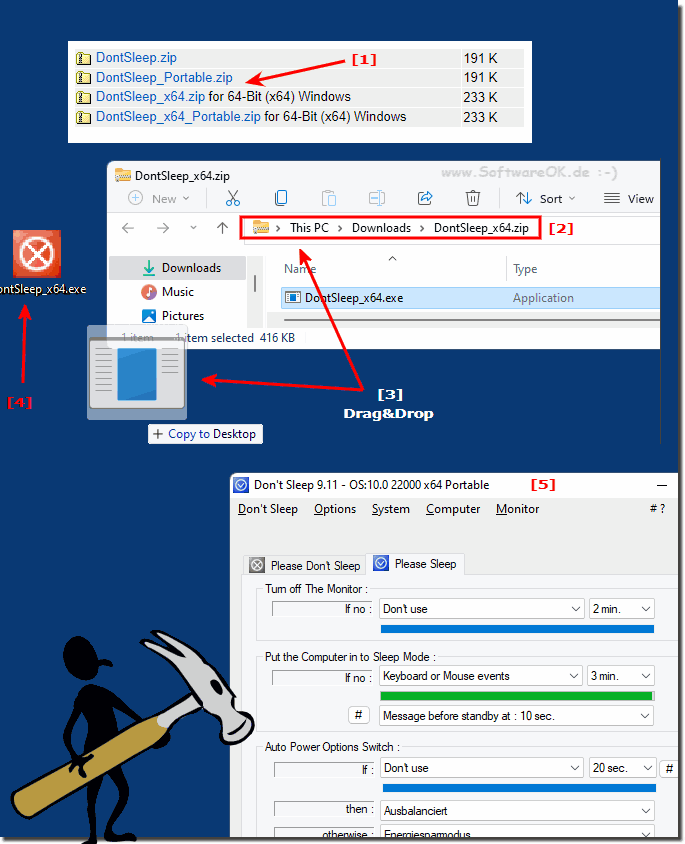 It really takes little effort to prevent Windows 11 from sleeping with this tool. Many Windows 11 users are very satisfied with the blocking of standby hibernation and shutdown of Windows 11. Blocking the screen saver function and preventing the monitor from turning off also work perfectly.




FAQ 28: Updated on: 12 September 2023 06:19