There are systems where don't sleep hang on Windows 10 or 11 x64 after a while!




 

Content:

1.) Don't Sleep hangs on Windows after a while!
 

Possibly use on the relevant Windows 10 x64 and the DontSleep x32 version!

 

Both are functionally equivalent, but on some systems the x32 is strangely more stable than the x64, even if the OS is a Windows x64! 

1. Just download the x32 version

... Download DontSleep

! (

... see image-1 point 1

)

2. You can

see

whether it is x64 or x32 in the title bar (

... see image-1 point 2 and 3

)

the x64 version is indicated by x64 in the title bar to recognize!

(Image-1) Unfortunately, Don't Sleep hangs up in Windows 10 after a while!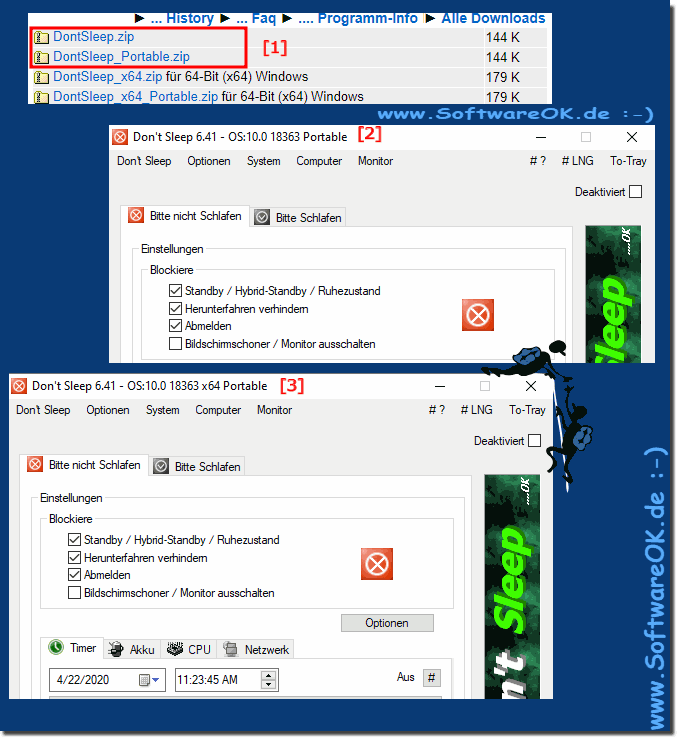 2.) Why do various programs freeze under Windows?


Hangs or crashes in Windows applications can occur for various reasons. Here are some of the most common causes:

Software problems:

Bugs: The software itself may contain errors or bugs that lead to crashes. This may be due to programming errors, memory leaks, or invalid operations.
Incompatibility: Some programs may conflict with other installed software applications or drivers, resulting in crashes.

Hardware problems:

Hardware errors: Hardware problems such as defective hard drives, RAM modules or graphics cards can prevent Windows applications from working properly.
Overheating: Overheating of hardware components can also lead to crashes. Make sure your computer is sufficiently cooled.

Driver problems:

Outdated or incorrect drivers for components such as graphics cards, sound cards or network adapters can cause crashes. Update your drivers regularly to minimize such problems.

Operating system problems:

The operating system itself can have problems that cause crashes, such as: B. due to corrupted system files or registry entries. In such cases, system repairs or reinstallations may be necessary.

Malware and viruses:

Malicious software can affect Windows systems and cause them to crash. It's important to keep antivirus software and malware scanners up to date.

Lack of resources:

A lack of system resources such as RAM, CPU power, or storage space can cause Windows applications to not function properly. Close unnecessary applications or increase your hardware resources if possible.
System update:

In rare cases, incorrect Windows updates or driver updates can cause problems. We recommend checking updates and uninstalling them if they cause problems.

To fix crashes in Windows applications, you should do the following:


Update your software, drivers and operating system regularly.
Scan your system for malware and viruses.
Monitor system resources to ensure your system has enough resources.
Make sure your hardware is working properly and run diagnostic tests if necessary.
For more information about the cause of the crashes, see the event logs and crash reports.
If problems persist, it may be helpful to contact customer service or support from the software provider or hardware manufacturer.

FAQ 19: Updated on: 2 November 2023 10:58