Easy set default Font for all the new Desktop Short Notes, you can change the default font settings at any time on Windows 11, 10, ... etc.!


Content:




1.) Setting the standard font for desktop notes!
1. As always, start your: ► Desktop Notes APP for MS Windows OS! 

2. Go to the Font selection field. 

3. Select the font that you like for your desktop notes on Windows 

4. Optionally, you can also click the "..." button next to the Use font to call up the standard Windows font dialog!




(Image-1) Set default Font for the Desktop Short Note!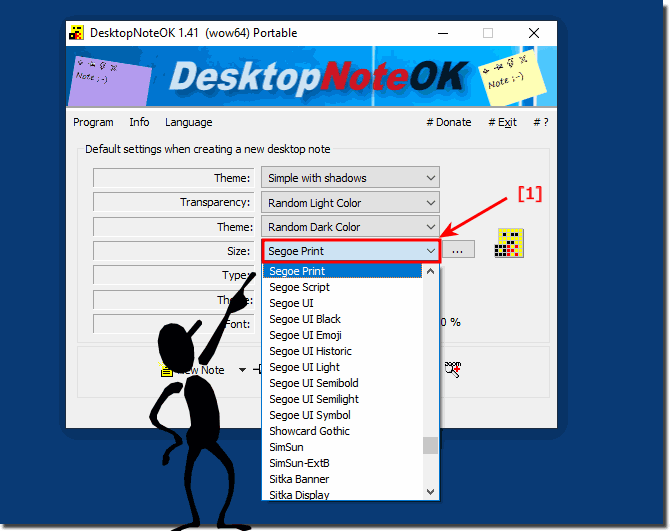 2.) The subsequent change of the font of individual desktop notes!


You can always change the font of the new desktop note !

1. Click on the lightning bolt in the respective desktop note 

2. Select the option Font  

3. And choose a new individual font 

( ... see Image-2 Point 1 to 3 )


It's so easy to change under Microsofts Windows OS the font of the individual desktop notes, which is very useful if you spontaneously want to use a different font for individual desktop notes!
 



(Image-2) Change the font for desktop notes at any time on MS Windows OS!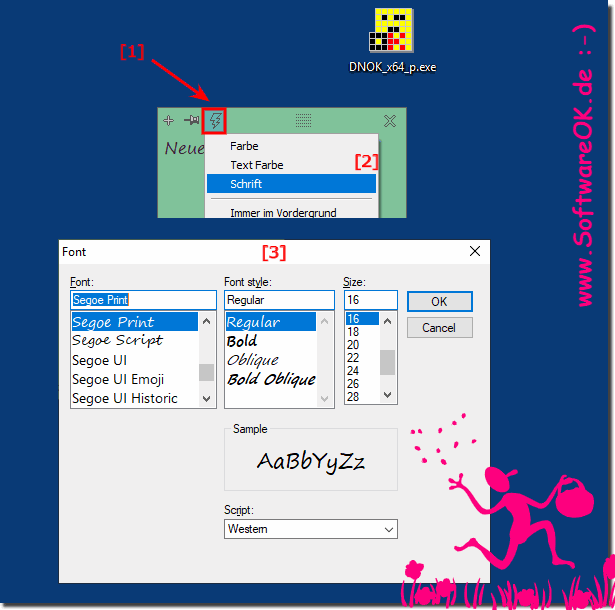 3.) What should I watch out for with the note font on MS Windows OS on Windows 11, 10, ... etc.?
Also choose a font that is easy to read and makes it easier for you to recognize / read the desktop note text and does not burden you unnecessarily when reading. 






FAQ 2: Updated on: 24 July 2021 09:58