If you don't want to have the desktop clock in the foreground, just set it so that the clock only appears on the desktop on Windows 11, 10, ... desktop OS!




 

Content:



1.) Desktop clock in the foreground on and off!
1. Start as always ►►  the Digital Desktop CLOCK for Windows 

2. And set the desktop clock to "Only on the desktop"

(... see Image-1 Point 1)

If the clock is in the standard background mode, it only appears on the wallpaper in the background, with Only on the desktop  + forced the digital clock is also a bit more intensive in the check and always moves to the desktop background!




(Image-1) Digital Clock in Foreground and Always Foreground Forced!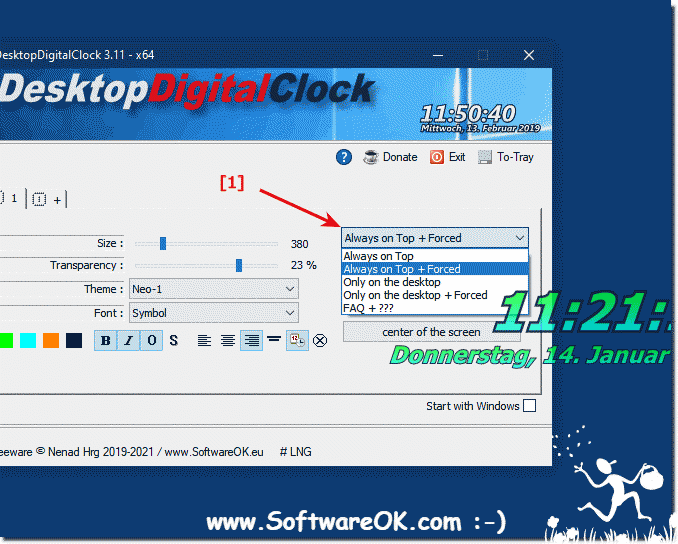 2.) Information about the Z-axis options in the digital desktop clock!

These options are very important, for example, when users work on multiple monitors, some prefer that the desktop clock is always on top on their Windows operating system, it is less annoying on the second monitor if they use the existing windows on the Desktop overlaid and obscured by the desktop digital clock, especially when set with high transparency!

However, users who use the desktop clock in digital form on a monitor prefer the desktop clock to appear in the background, i.e. only on the desktop. Here are two ways to ensure that you don't get disturbed by the desktop clock in the foreground and can get on with your work as normal. Of course, the option in the Z-axis has no influence on the time displayed on desktop, it is always queried by the system time and date and displayed on the desktop, including the current date, if it has been activated.



FAQ 16: Updated on: 2 October 2022 08:13