Desktop.Calendar.Tray.OK is a very small portable program that allows you to display on your computer from the desktop directly or from the notification area of ​​the taskbar (To-Tray) a clear desktop calendar!




Why Desktop.Calendar.Tray.OK:

Are you one of those people who only occasionally make an appointment and then can not calculate the days until the appointment, or even more complicated if there are weeks, when it comes to this task you do not have to install other disk-consuming programs.

Thanks Desktop.Calendar.Tray.OK this is no longer necessary! Simply place Desktop.Calendar.Tray.OK on the desktop and relieve the head to make it comfortable to calculate by this tiny Windows tool.

The calendar is not only for inexperienced users, every profited of this Windows tool with a single handle you do not lose the orientation in days, weeks or months.

You can test this desktop tool without hesitation, since no installation is necessary, you can also delete this Tool quickly!


Please always use ... the latest version of Desktop.Calendar.Tray.OK for Windows! 




(Image-1) Desktop Calendar from Tray is O.K.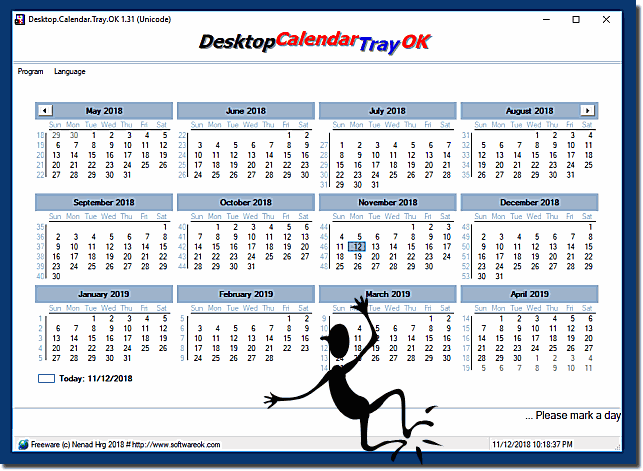 2.) More thoughts on the desktop calendar tray on Windows!

A Desktop Calendar Tray on Windows always refers to a feature or application that provides a calendar view or function that is directly accessible from the Windows taskbar, which is usually located in the bottom right corner of the screen near the system clock. This type of feature can be useful for quickly checking appointments, appointments, or upcoming events without having to open a separate calendar application.





Here are some possible reasons why someone might want a desktop calendar tray on Windows:

Quick access:
A desktop calendar tray provides easy access to calendar information without having to open a full-fledged calendar application. You can simply click on the taskbar icon to view your calendar events or upcoming appointments.

Information at a glance:
Users can see important dates and events at a glance, which can be especially helpful for people who rely on their calendar for scheduling and time management.

Minimum interruption:Since the calendar information is easily accessible from the taskbar, your workflow is not interrupted and you do not have to switch to a separate application.




Please note that the availability and features of a desktop calendar storage may vary depending on the software or application version you use. If you are interested in using such a feature on your Windows desktop, you can look for other third-party calendar applications that offer this functionality or check if your operating system has a built-in calendar feature accessible from the taskbar.





FAQ 3: Updated on: 6 October 2023 18:51