If you hide the Windows 11, 10, ... etc. Desktop icons ergo symbols and show them again without timer,  you can do this easy! 


Make the following settings in AutoHideDesktopIcons.

1. Show by clicking on the desktop: Only the option Desktop context menu  (... see Image-1 Point 1)

As an option, you can also activate the left button. Then the icons are also displayed when the left mouse button is clicked on the Desktop.

2. Under More Options only the option Hide via middle mouse button . (... see Image-1 Point 2)

3. And set the timer to maximum. (... see Image-1 Point 3)

So! Now when you click on the desktop with the middle mouse button, the desktop icons will be hidden.

If you want to see the symbols again you can press the right or left mouse button.

► ... Please use the latest version of the Auto Hide Desktop Icons for Windows  




(Image-1) Windows Desktop icons Hide and Show by a Klick!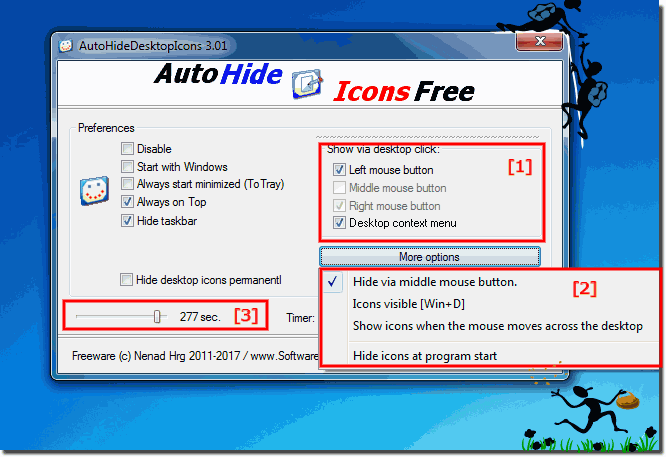 FAQ 2: Updated on: 1 August 2021 10:20