Well, to create a virtual drive / hard disk or a VHD in Windows 8 ,8.1 and Win 10, is almost very easy (a no-brainer)!


Please press the key combination [Windows Logo + X] to start the Windows 8.1 / 10 Disk Management.

Create one VHD, now very easy through the menu item Action and Create VHD to start the Virtual Disk Wizard.
(... see Image-1 Arrow 1 and 2)

The creation of the VHD is self-explanatory. (... see Image-2)

See also:
How to mount in Windows-8 and 8.1 virtual disks like ISO images or VHD drives!
Why can I not delete a VHD file in Windows 8.1 or 8?



(Image-1) create a virtual hard disk on Windows 8.1 and 10!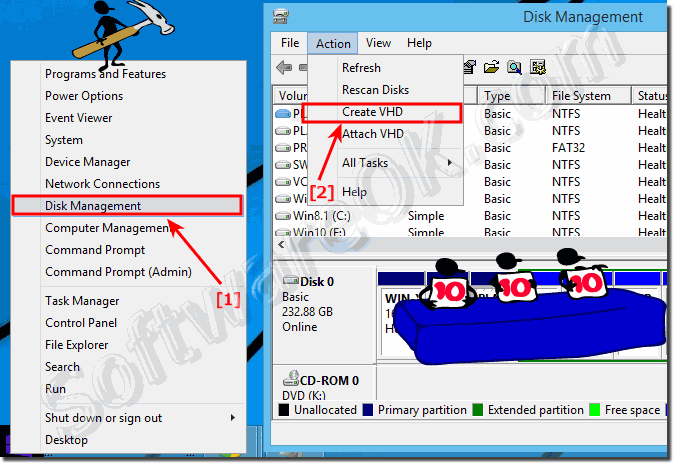 (Image-2) New VHD (virtual hard disk) for Windows 8.1!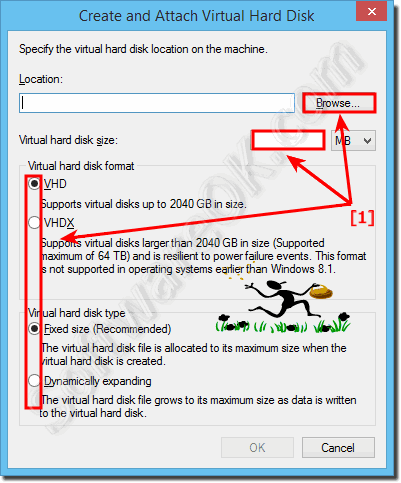 VHD
Supports virtual disks up to 2040 GB in size.
VHDX
Supports virtual disks larger than 2040 GB in size (Supported maximum of 64 TB) and is resilient to power failure events. This format is not supported in operating systems earlier than Windows 8.1.
Virtual hard disk type
Fixed size (Recommended)
The virtual hard disk file is allocated to its maximum size when the virtual hard disk is created.
Dynamically expanding
The virtual hard disk file grows to its maximum size as data is written to the virtual hard disk.
FAQ 228: Updated on: 7 October 2020 12:50