The default size of the icons (symbols) in the Windows 8.1 task bar is big, but the symbol can be resized quite easy in Windows 8, 8.1 and Windows 10 !


Click the Windows taskbar with the right mouse button, in the context menu select properties of the taskbar. Enable only "use small taskbar buttons". (... see picture 1)

See also:... the desktop icon size in Windows 8.1
and: ... customize the Windows 8.1 / 8 desktop!

If the task bar is not fixed (... see picture 1 arrow 4) you can change the size (height) of the taskbar via mouse drag!

See also: ... the real Desktop folder path in Windows 8.1,8, 10 || ... desktop background in Windows 8.1 and 10

Win 10 FAQ: ... display the full path in explorer || remove search the web box from Taskbar  



(Image-1) Use small taskbar buttons in Windows 8.1!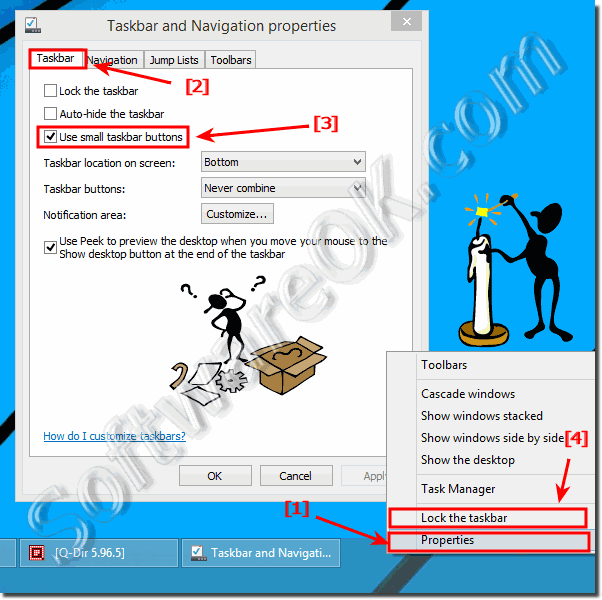 You can customize the Windows 8.1 and Windows 10 taskbar, including the way taskbar buttons look, how they group together when you have more than one window open, where the taskbar is on your desktop, and what icons and apps are on it.

To rearrange the order of app buttons on the taskbar, drag a button from its current position to a different position on the taskbar. You can rearrange apps as often as you like.

FAQ 201: Updated on: 25 September 2018 00:01