Easy solution to activate the screensaver in Windows 8, 8.1 or 10 to display all pictures of a folder!
Please open the screensaver settings in Windows 8.1, 10, ... via
Command-Prompt
, this is the fastest way on all MS Windows Desktop  and Server Operating Systems and Tablet PCs plus MS Surface!
Switch the Screensaver to display pictures folder on all Windows OS!



1. Use the key combination [Win-Logo]+[R],

2. Then simply type the command: control desk.cpl ,1
(... see Image-1 Point 1)

3. In Screen saver Group-Box please select the Screensaver "Photos"
(... see Image-1 Point 2)

4. Click the button  "Settings..." (... see Image-1 Point 3)!

5. In "Photo Screensaver Settings" browse for you Picture eg, Image Folder! 
(... see Image-1 Point 4)!





(Image-1) Get a screensaver to display all folders of pictures in windows 8.1 or 8!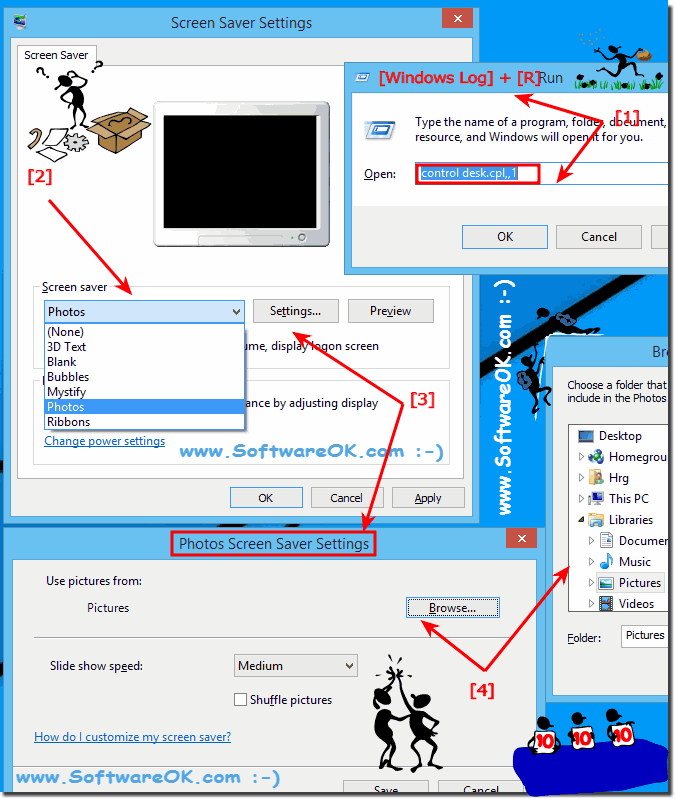 FAQ 143: Updated on: 5 May 2020 09:52