Simple solution to start the Windows 7 cmd.exe in administrator (admin) mode!
1.) Start in start menu the cmd.exe in administrator mode!

Please click on "Start" (Windows-Logo), then enter "cmd.exe" and execute with keys [Shift]+[CTRL]+[ENTER] (Picture-1).  See Picture-1!

PS: [Shift]+[CTRL]+[ENTER] is required to start (execute) the command prompt "cmd.exe" in administrative mode!

Whit only [ENTER] is normal mode and many admin features does not work.

You can start every windows process with [Shift]+[CTRL]+[ENTER] as an Administrator!

Optional right mouse click and Run as administrator!



HOT-TIP:

... alternative to the standard Windows Run-Dialog.
2.) Find in Windows-7 File Explorer the command prompt and run in administrator!
To find the cmd.exe  please start the Windows Explorer [Win-Logo]+[E], then tap it into the address bar shell:system or C:\Windows\System32 and confirm with Enter.

Use right click mouse button on the cmd.exe and select in context menu Run as administrator
(Image-2) Find the Windows 7 cmd.exe MS-Explorer and run!


3.) Start the command prompt in Windows 7 as an admin via desktop shortcut!
Please use the ... Solution 2  and do a drag and drop action via right mouse, and create the shortcut.

Rename the shortcut and rename for example to Admin-Cmd, so you have a command prompt shortcuts on the

Windows 7 desktop. And change the properties of the shortcut to start it always in administrative mode! 
(... see Image-4) and (... see Image-5)





(Image-3) Windows 7 administrator mode shortcut for cmd.exe!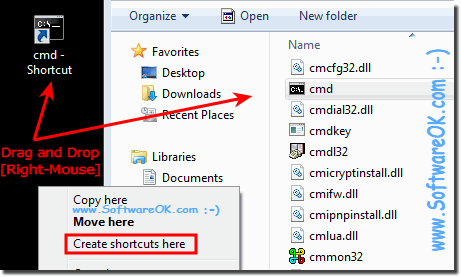 This method works in Windows 7 and also in the new Windows 10 / 8.1, if they both have a Windows Explorer.



(Image-4) shortcut for cmd.exe and admin run!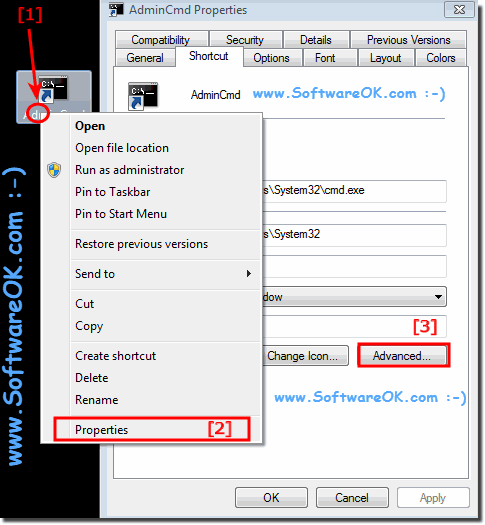 There are situations that you can not do so fast without the command line on windows. For example, if you have a prepared command on your computer,  it will execute quickly you command.



(Image-5) Windows 7 cmd.exe in administrator shortcut!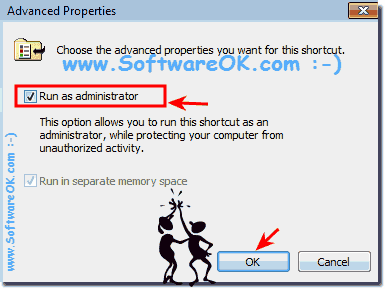 FAQ 23: Updated on: 2 June 2022 19:45