The solution is simple to switch language in Windows-7 (change, add)?


If you want to change the Language in windows 7, please run the command:
 control.exe /name Microsoft.RegionalAndLanguageOptions

Please select the Tab

"Keyboard and Languages"

and Chose a display language: 

To install or uninstall an new language on Windows-7, please click the Button Install/uninstall languages

Or, to change Windows-7 keyboard, or input language click Change keyboards. click the Button Change keyboards

See also: Download Language Packs for Windows-7!

The language packs are available in Windows 7 ultimate through Windows update as optional updates. They aren't installed automatically. If you're using Windows 7 Enterprise, contact your system administrator for information about installing additional languages.



(Image-1) Switch Language in Windows-7 or change or install!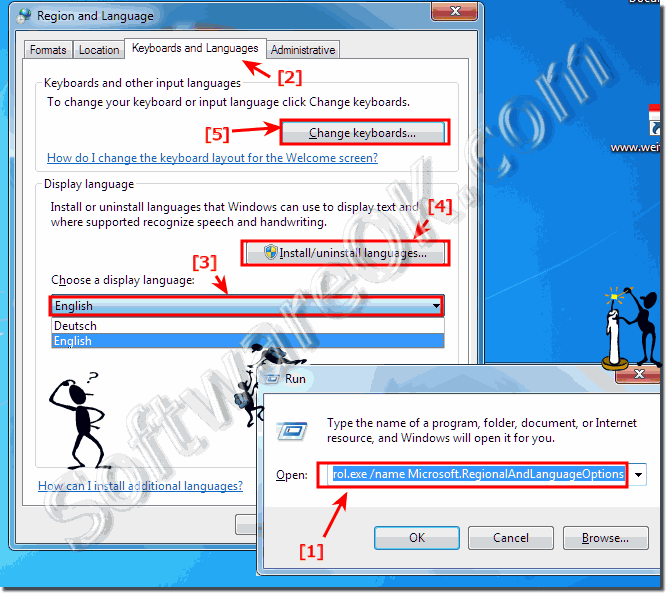 You can change the language Windows uses to display text in wizards, dialog boxes, menus, and other items in the user interface. Some display languages are installed by default, while others require you to install additional language files.

There are two types of language files:

Windows 7 Language Interface Packs (LIPs).‌ Windows 7 LIPs provide a translated version of the most widely used areas of the user interface. LIPs are freely available to download. For more information, including a list of languages available, go to the Microsoft Local Language Program website.

Windows 7 language packs.‌ Windows 7 language packs provide a translated version of most of the user interface.

Before you can install a display language, you need access to the language files. These files can be found on your computer, a computer in your network, or your Windows DVD. They can also be downloaded from the web.



FAQ 115: Updated on: April 9th 2015 21:35