Everyone is happy that different wallpapers can now be set on different desktops under Windows 11!



Contents:



1.) Images for different desktops under Windows 11!
1. Press the key combination Windows logo + tab

2. Click on the thumbnail of the desktop to define the background image

3. And simply select the background image 

(... see Image-1 Point 1 and  to 3) 

PS: Closing the second or third desktop will remove your wallpaper setting. You have to set / define the background image again.




(Image-1) Different desktops under Windows 11 and background images!


2.) Alternatively via Personalization > Background!

1. Start the Windows 11 settings ( Windows + i )

2. Go via Personalization to ► Background 

3. Now simply click on the background image with the right mouse button 
(for multiple Windows 11 desktops set individually or for all)

4. Optionally, you can set a personal picture using the button "browse photos"

(... see Image-1 Point 1 to 6)



(Image-2) Change the desktop background on Windows 11!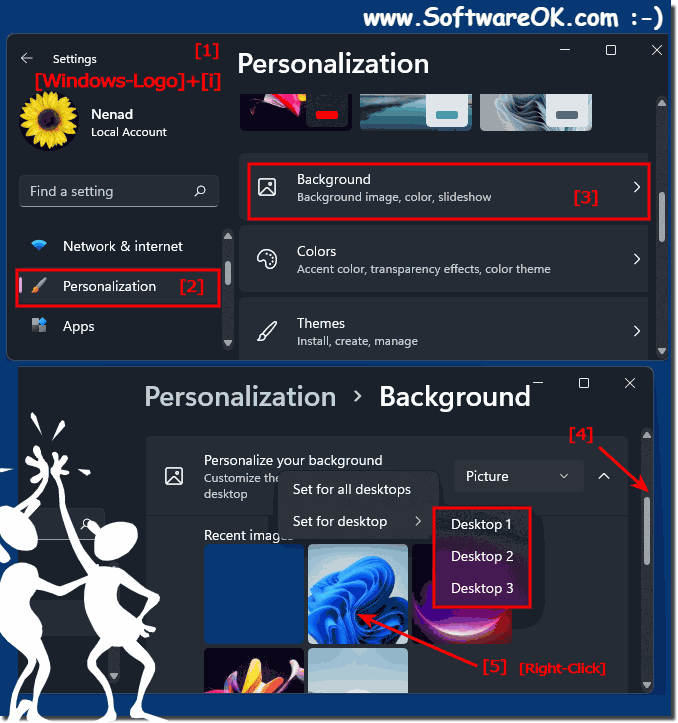 Alternatively, you can press Win + I to open Windows Settings and go to Personalization> Background

Windows 11 has been announced with a lot of new features like Snap Layout, redesigned widgets, new startup sound, ... etc. Lots Desktop-OK users  , who often use the desktop option and who love order and individuality, wanted such an option. 





FAQ 92: Updated on: 26 August 2023 07:04