You cannot deactivate the MS Windows 11 updates, but the auto-updates can be suspended for up to 5 weeks!
1.) Set up the pause of Windows 11 updates!
1. Start the Windows 11 settings as always

2. Click on "Window Update"

3. In the Suspend update area, switch to, for example, "Stop for 5 weeks"

(... see Image-1 Point 1 to 4)

PS: If you would like to continue the MS Windows 11 OS auto-updates, then simply click on the "Check for updates" button (point 5) and the "Suspend updates" function will be deactivated.


 


(Image-1) Pause the Windows 11 auto updates for up to 5 weeks!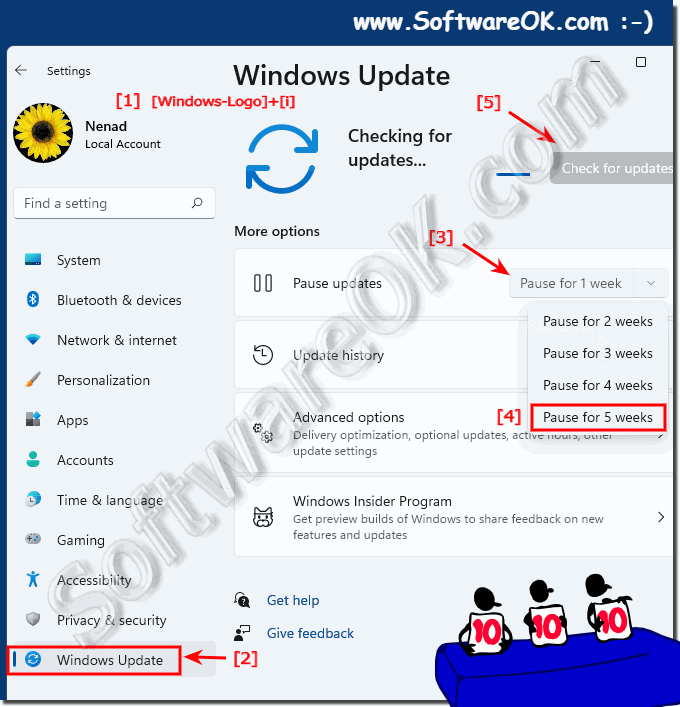 2.) What should I watch out for when deactivating the auto updates!
By default, Windows 11 automatically searches for updates and installs them unless you have temporarily disabled or paused these automatic updates. You can easily stop the automatic updates in Windows for a few weeks.

You will not receive any important security updates and if, for example, you enjoy surfing the Internet, you may only be 99% protected. As a rule, however, you will not catch malware or a virus immediately unless you do some installations during the time that you are not 100% up to date!





3.) ... Windows 11 update,  more tips and ... !




The Microsoft Windows Update is an important part of the Windows operating system, which increases system security and usually makes the operating system more stable! 


4.) What are the dangers of pausing Windows updates?
 


Pausing Windows Updates may be necessary or desirable in certain situations, but it also carries potential dangers and risks. Here are some of the risks that may be associated with pausing Windows Updates:





Security risks:
Windows updates often contain important security updates that close security vulnerabilities. Pausing updates leaves your operating system and applications vulnerable to known security issues. This can make your system vulnerable to malware, viruses and other threats.

Performance issues: Microsoft also releases updates to improve Windows performance and stability. Pausing updates may prevent your system from benefiting from these improvements, resulting in slower performance and potential problems.

Troubleshooting:Updates often contain fixes for problems that occurred in previous versions of Windows or applications. Pausing updates may leave existing issues unresolved or cause new issues to arise.

Incompatibility: Over time, incompatibilities may arise between older versions of Windows and new applications or hardware components. If you pause updates, you may experience problems installing new software or hardware.

Data loss: In rare cases, updates can lead to data loss, especially if they are faulty. Pausing updates means your system could be more vulnerable to such issues without the ability to be protected by updated patches.

Updates can become overloaded later: If you pause updates for a long time, they can build up and result in a large amount of updates having to be installed at once. This may take some time and may slow down your system during the update process.



Info:

It's important to note that Microsoft typically carefully tests updates before releasing them to minimize these risks. Pausing updates should therefore generally be avoided unless there are specific reasons or requirements that require a temporary suspension. In such cases, updates should be re-enabled as soon as possible to ensure the security and stability of your system.







FAQ 78: Updated on: 6 October 2023 06:19