Windows 11 also has a device manager, why not, this has not been rationalized away by Microsoft for reasons of cost!
Starting the device manager described here is quite practical. If you want to find it in the control panel, simply open the
Windows 11 control panel
and use F3 to search for "device manager". You can also use the term "device manager" to open the device manager in Windows 11 Search Find, this is started with the keyboard shortcut Window + Q (PS: Q = Query in English)
1.) The quick opening of the device manager!
1. Windows + R then the command: devmgmt.msc via the Run dialog

2. And it appears, the device manager that has not changed for > 20 years




(Image-1) Windows 11 have a device manager!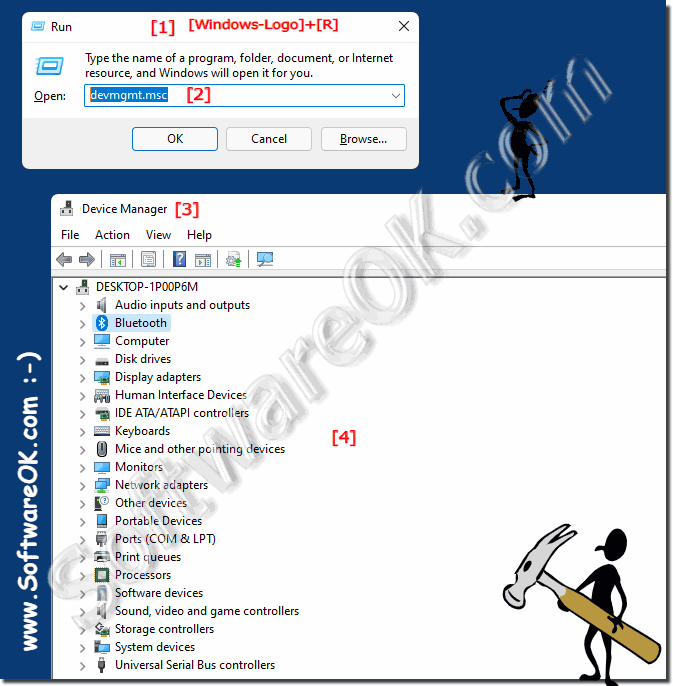 2.) Make the device manager available as a desktop shortcut with just a few clicks!

1. Start the Windows 11 Run Dialog Windows + R

2. Enter the command  control

3. F3 and the term "device" Device Manager can appear  

4. Now right-click a finishing and make the fifth as Windows 11 desktop shortcut available 

(... see Image-2 Point 1 to 6)

Sometimes good things are very simple, it is no different under Windows 11 and the device manager here you have many options to open it!



(Image-2) Windows 11 device manager as a Desktop Shortcut!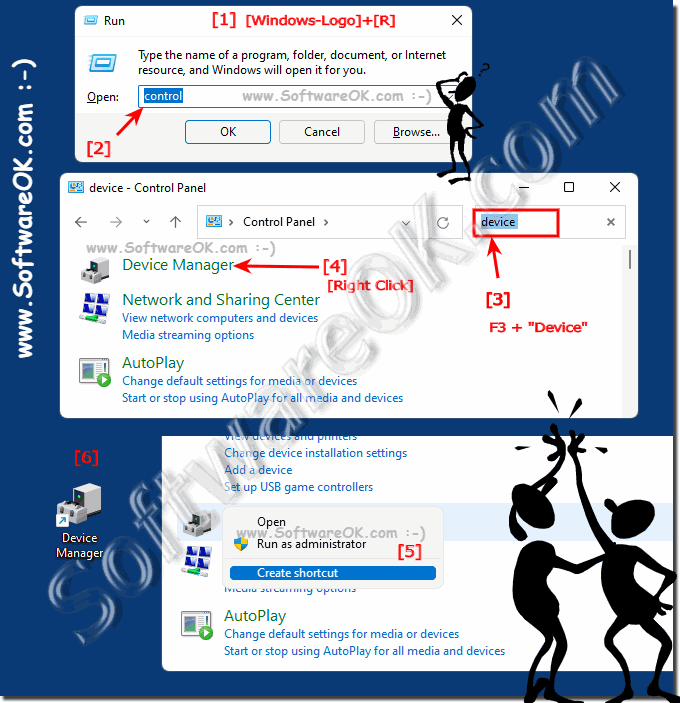 3.) Why is the device manager also important on Windows 11?
In Windows 11, Device Manager is still an important program that you can use to configure hardware on your PC or troubleshoot errors. And you can see immediately whether all hardware has been recognized!







If you use a Windows 11 computer, you should know Device Manager and how to use it. Device Manager is also important on Windows 11 because it provides a central overview of all hardware devices on the computer.

Device Manager allows you to perform the following tasks :






 

Disable devices : You can disable hardware devices in Device Manager if you don't want to use them temporarily. This can be helpful in certain situations to avoid conflict or save energy.
 
Hardware detection : Windows 11 can automatically detect new hardware components and install the necessary drivers. If this doesn't happen automatically, you can use Device Manager to identify and install missing drivers.
 
View device status : Device Manager displays the status of each device, including device type, device status, and driver version. This can be helpful to diagnose problems with hardware devices.
 
Troubleshooting : If a hardware device is not working properly, Device Manager can help you identify the problem. You can detect devices with problems, troubleshoot conflicts, and update drivers to fix errors.
 
Install or update device drivers : Use Device Manager to install drivers for new hardware devices or update existing drivers. This can help improve the performance and stability of hardware devices.
 
 
Update and Maintenance : Device Manager allows you to effectively monitor and maintain your system's hardware. This is especially important to ensure that your hardware devices always work properly.
 
Driver Management : Device Manager allows you to manage drivers for hardware components such as graphics cards, sound cards, network cards and other devices. Updated drivers are often crucial to the stability and performance of your system.
 
Disable or remove devices : Device Manager can be used to disable or remove hardware devices that are no longer needed. This can be helpful to free up disk space or resolve driver conflicts.



 


Overall, Device Manager is a useful tool for managing your Windows 11 computer's hardware and ensuring it is functioning optimally. It can help identify and fix problems, optimize performance, and improve the overall experience with your PC.





FAQ 36: Updated on: 21 October 2023 08:42