You can create a system image of Windows-10, which contains a copy of Windows 10 and copies of your programs, system settings and files!


Content:



1.) Set up a system image under Windows 10! 
Please start the Backup and Restore Center via command:



control.exe /name Microsoft.BackupAndRestoreCenter

in the

Windows 10 run Dialog

  [WindowsR].

(Image-1) Create a system image on Windows 10!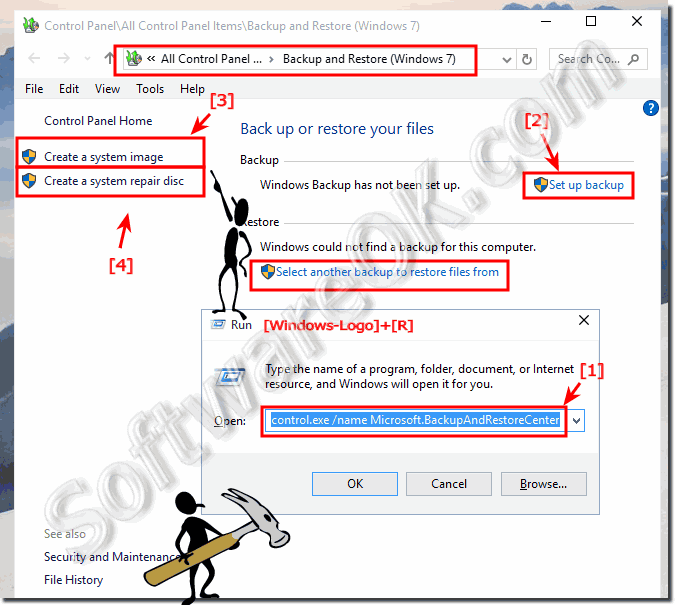 Useful information from (c) Microsoft:

Windows 10 Backup provides you with the flexibility of managing the disk space that is used by your backups. After you set up Windows 10  Backup, you can view how much disk space is being used by the backup and how much free space you have on the disk that your backups are being saved on by going to the Backup and Restore Control Panel. To control how much disk space is being used, you can choose how many file backups and how many system images Windows 10  keeps. The following information can help you when deciding how best to manage your backup disk space:
Backups are created in sets known as backup periods. To help maximize your disk space, Windows 10  Backup backs up all selected folders the first time it's run and then it only backs up files that are new or have been modified since the last backup was made. Periodically, Windows 10  creates a new, full backup. Each full backup is known as a backup period. When you view your file backups, you see all of the backup periods labeled with date ranges. If you decide to delete file backups, you should always keep the most recent file backup. 
By default, Windows 10  automatically saves as many system images as it has space for without taking up more than 30 percent of space on the backup disk. Once the disk starts running out of room, Windows 10  deletes older system images. You can set Windows 10  to retain as many system images as it has space for on the backup disk or to only keep the most recent system image. You should always keep the most recent system image. If you are saving your system image on a network location, you can only keep the most recent system image of Windows 10.
A windows 10 restore point is a representation of a stored state of your computer's system files. You can use a restore point to restore your computer's system files to an earlier point in time. Restore points are automatically created by System Restore weekly and when System Restore on windows 10 detects the beginning of a change to your computer, such as when you install a program or a driver.
System image backups stored on hard disks can also be used for System Restore, just like the restore points created by system protection for windows 10. Even though system image backups contain both your system files and personal data, your data files won't be affected by System Restore. You can create a restore point on windows 10 manually at any time by following the steps below.
2.) Windows 10 system image options! 
Now you can select a drive of course external data storage media can be damaged due to data loss on the PC or notebook. And start the Backup.
One can decide in the following steps in person what everything should be secured. 
Tip:
Sometimes, not only can the System Archive be useful for deploying Windows 10 if it does not work to repair it, but also for extracting accidentally deleted important files that have been stored in the archive!


(Image-2) System image Backup on Windows 10!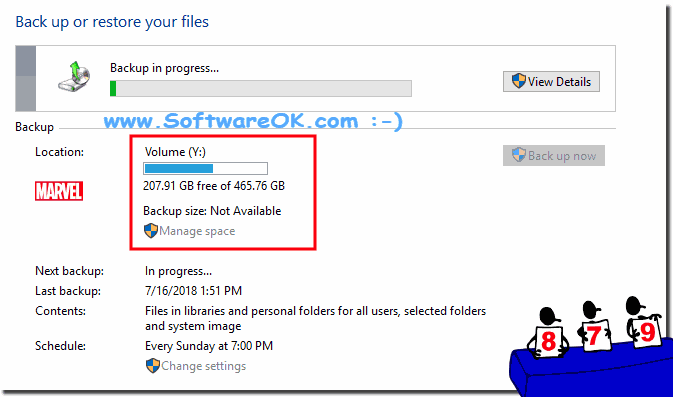 Info:
The elegant solution to create a system image under Windows is not only for Windows 10 written,
even if the system image is under Windows 10 Create screenshot has been made under Windows 10 as you can detect system image solution under Windows 10 shot screenshot. You can easily and safely apply this pretty good example as a solution for older versions of MS Windows OS, whether it's a Windows desktop, tablet, Surface Pro / Go, or even a server operating system.


The Windows 10 system image is then stored in a separate location from the original programs, settings, and files. You can use this image to restore the contents of your Windows-10 computer if your hard disk or entire computer ever stops working. 


FAQ 97: Updated on: 24 July 2021 17:37