In order to enable the remote desktop connection under Windows 10/11, this must of course be activated / installed on the Windows operating system. Here is the solution.


Content:




1.) Settings for the remote support connections / remote connection!
To open the settings for the remote support connections / remote connection to in Windows 10,
please

execute

the command sysdm.cpl via the Windows 10 Run dialog.

For example via the Windows logo + R key combination.

In Windows 10 system properties, please select the Remote tab.

And activate the remote options. 



TIP: Here you as admin can allow users for remote at the same time!



See also: ► Open remote desktop connection in Windows 10  

►

 Remote desktop in Windows 10 Home  

◄

(Image-1) Windows-10, allow Remote desktop connection!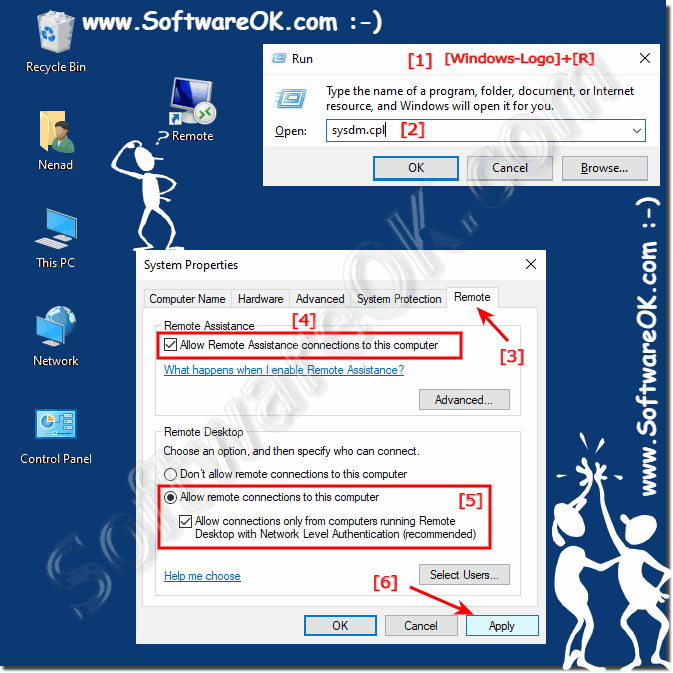 Info:

As you can see in the screenshot above taken under Windows 10, it is easy to enable remote desktop connection under Windows 10. You can easily use this example on earlier versions of Microsoft's Windows operating systems to activate the remote desktop connection no matter whether it is a Windows desktop, tablet, Surface Pro / Go, or even a server operating system.


2.) Creating a remote desktop connection as a desktop shortcut!
The working directory of the remote desktop connection is in C:\Windows\System32

The full path: %windir%/System32/mstsc.exe


1. The easiest way to open it in Explorer is  C:\Windows\System32

2. Right click on mstsc.exe and "Create shortcut"

 

4. The message appears "No link can be created here"


5. "Do you want to create the shortcut on the desktop instead?" << Confirm with [Yes]

6. Simply rename it to Remote Desktop on the desktop or "Remote" 

(Image-2) Remote desktop Shortcut on Windows Desktop!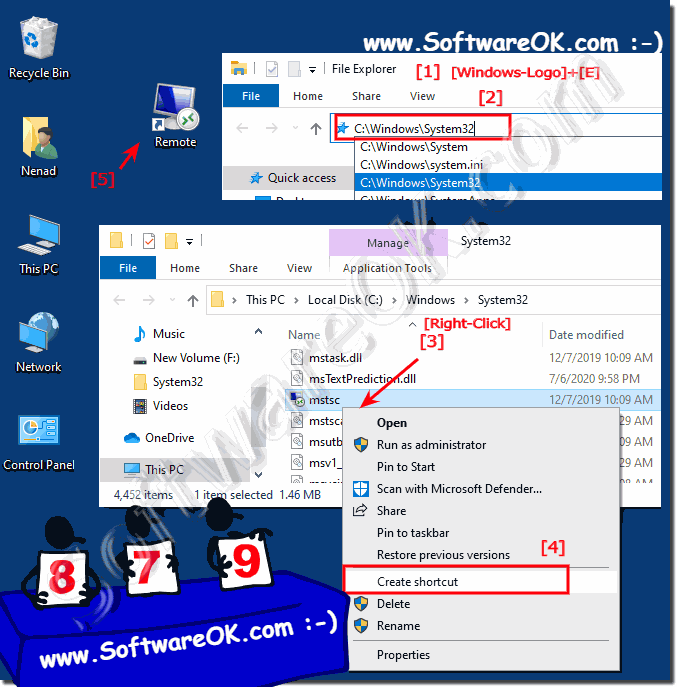 3.) Saving a remote connection under Windows! 
1. Open the remote desktop connection

2. Go to "Show options"

3. And save the settings 

Here in the example as "Test.rdp" you can often connect Open the saved file if necessary to quickly establish a remote connection to a remote MS server or desktop computer using the same settings!




(Image-3) Save and Open the Remote Desktop Connection on Windows 10 OS!

4.) The remote connection as start menu tile practical for notebooks and tablets!
Starting a remote connection to a server is also practically

easy via a start menu tile when you have created a remote desktop shortcut.

Simply right-click on the shortcut and attach it to Star 



(Image-4) Run the Remote Desktop Connection from Windows 10 Start-Menu!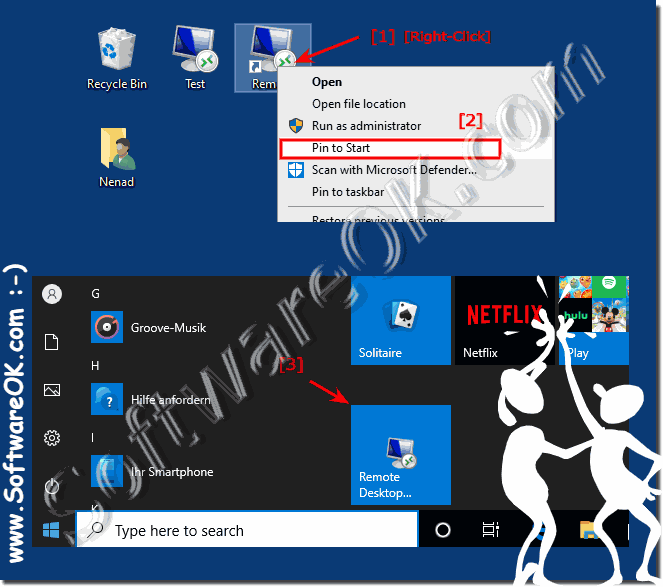 FAQ 86: Updated on: 25 August 2023 12:22