You can install Windows 10 on a 20 gigabytes partition, it depends on, how many other apps or programs you will install on the Windows 10 boot disk partition.
    



To: How big is Windows 10 on DVD and HDD?



► x32 (on the DVD ~ 2.5 GB, after installation on the hard disk drive ~ 9.0 GB)
► x64 (on the DVD ~ 3.5 GB, after installation on the hard disk drive ~11 GB)
► How big is MS Windows 11 OS after installation?

►... Download Windows 10, 8.1 DVD, ISO, USB for Free no Key?



Windows 10 and the partition size on HDD or SSD!



I would say a partition size for install (c:\) 50 GB, better 100 GB to make sure!
( ... Download the Windows 10 ) 

See also:
► ... how long does it take to install and download Windows 10? 
► ... change product key in windows 10
► ... auto login windows 10


How much space on Windows 10 for 1 user account


Per Windows 10 user ~1-3 GB for personal User Data and App and Programs Files!


How big is the current Windows 10 + all Auto Updates in 2020


After clean installation of Windows 10 and all auto updates ~ 15-20 GB 



After

free Download of Windows 10

, The size of Windows 10 on HDD or small SDDs is the Question of

all Windows User

and hear is the answer for this very important Question, before start an Installation of Microsoft's best Windows operating system ever on your personal computer system Whatever it is, business or Home PC!

 




(Image-1) Windows 10 size on disk after install on a partition c:!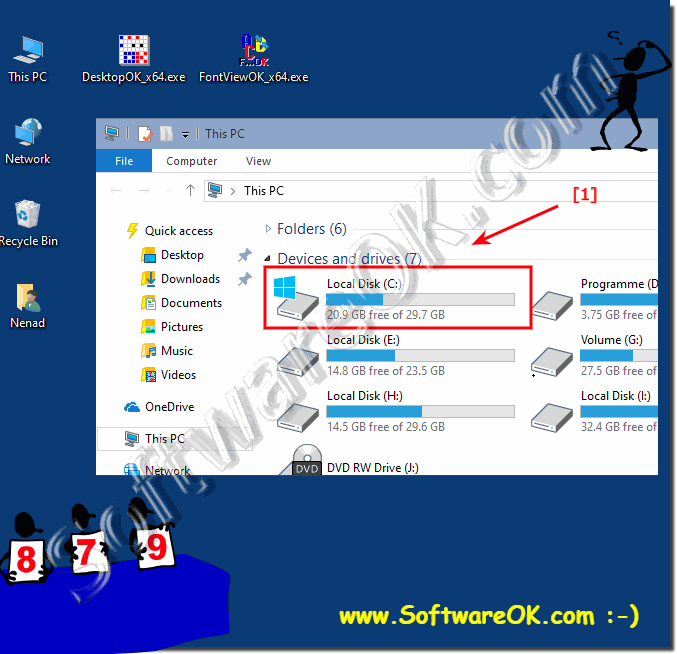 If you receive an error message when trying to install a 64-bit version of Windows, your PC central processing unit (CPU) might not be capable of running a 64-bit version of Windows. For more information, see 32-bit and 64-bit Windows 10: frequently asked questions.

If your CPU is capable of running a 64-bit version of Windows, but your computer is currently running a 32-bit version of Windows, you need to start, or boot, your computer using the Windows 10 installation disc or a USB flash drive. For more information, see Start your computer from a Windows 10 installation disc or USB flash drive.

Useful info from (c) Microsoft:



 

Drivers designed for 32-bit versions of Windows 10 do not work on computers running a

64-bit version of Windows 10.

If you're trying to install a printer or other device that only has 32-bit drivers available, it won't work correctly on a 64-bit version of Windows 10. For information about

updating drivers and troubleshooting

issues with device drivers for 64-bit versions of Windows 10, contact the manufacturer of the device or program and

folder size

.

.. I can not find the bytes on my Windows 10 PC? !

Info:

The question keeps popping up in forums: Why does the Windows folder take up so much space? Or: Why is my hard drive full? I didn't install that much. One reason for this may be that there are many temporary files on the computer. Or you have a program that does not automatically delete the stored data. But there are ways to find out. 



FAQ 31: Updated on: 25 August 2023 11:49