The solution is very simple, anyone can customize the visual effects in Windows 11 / 10 individually for a better performance on MS OS!
1.) Adjust visual effects under Windows 10 / 11!
1. Please start the Run dialog in Windows. For example, via the Windows logo + R keyboard shortcut and use the sysdm.cpl command!

2. In the System Properties window, mark / activate the "Advanced" tab.

3. Click Groups Field "Performance"  via the Settings button.

4. Now switch the visual effects to "optimal performance"

(... see Image-1 Point 1 to 5 )



(Image-1) Adjust the window animations under Windows 10!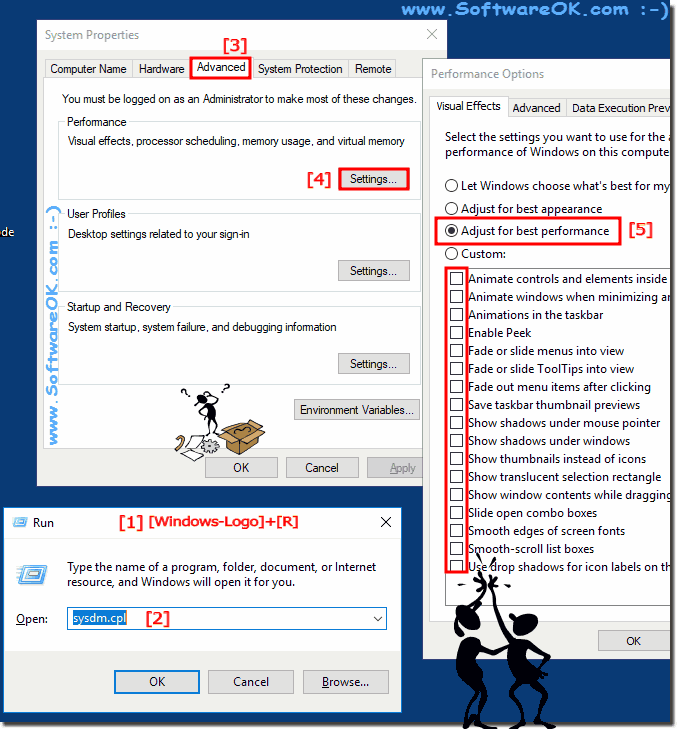 It really is very useful and beneficial to use this solution to adjust the window animations, on the new MS Windows OS, or on any of the following operating systems: Windows 11, 10 , 8.1, 8, 7: Pro, Home, Enterprise, Basic, Premium, Professional, Starter, Ultimate, Windows-Server 2019, 2016, 2012 However, you can use this example to customize the Windows 10 window Animation, without hesitation or disadvantages.



2.) What should I keep in mind when changing the visual effects + tips!

If you have made the settings described above, not only the navigation on your Windows 10 PC become faster, your PC has also additional system resources for other important tasks.

You can always undo changes of visual effects on Windows 10  / 11 using the same instructions.



 


  



FAQ 237: Updated on: 25 August 2023 14:32