To
see the WLAN or WiFi connection speed

under Windows 10 / 11, there is an easy way!



Content / Solution / Tipp:





The Wi-Fi example pictures (screenshots) are made under Windows-10, but the solution is also suitable for Windows 11, 8.1 and 7, and a good way to see other

network adapters and connections

, the Wi-Fi speed depends on the following factors: the distance to your Wi-Fi access point, the Wi-Fi access point you're connected to, your device's hardware, link

frequency

, and physical obstacles such as walls.
1.) Displaying the WLAN speed under Windows 11, 10, ...! 
In the Control Panel simply type in the search field
adapter
 (
... see Image-1
), now click on the text:
"View Network Connections"
(Image-1) See the WiFi speed under Windows 10!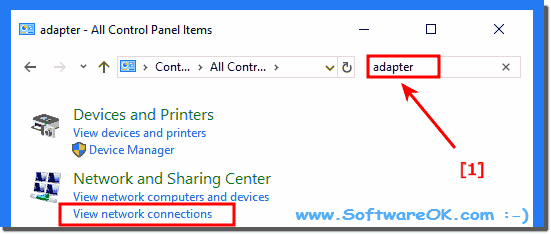 And now with a double click on the Active WiFi (WLAN) connection open to see the characteristics of the connection. Here it is 866 Mbit per second a pretty good value. 
The connection speed of WLAN can also fluctuate very much, possible causes are interference fields near the router or in the vicinity of the PC or notebook which can also be caused by a mobile phone (smartphone / iPhone). 
By right-clicking on the
network adapter
, you can disable Disabled Connections. 
(Image-2) Wlan or WiFi speed under Windows 10!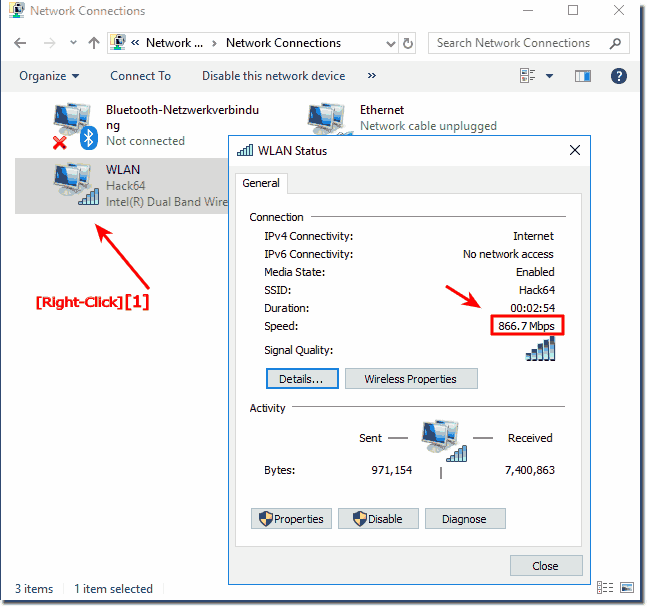 2.) Measure the WLAN speed in Windows Network!
There are many benchmark test or special software or you can also do an internet speed  test. In general, if you have multiple machines on the network, you can simply copy the files between two computers to see the speed during data transfer.  
There is also special software for measuring, but it is generally absolutely sufficient to make a copy operation in the network. Please note that all components in the network are responsible here (WiFi adapter, FritzBox, router, network cable, ...).  
With the simple TRACERT man can detect any problems in the network, 
FAQ 213: Updated on: 25 August 2023 14:08