The Language and Region settings in Windows 10 / 11 is an important key feature, the solution is simple to find and change the settings!
Content:
1.) Find / Open the new Regional Settings under Windows 10 / 11?
1. Enter in the search box Windows Logo +Q the text region

2. And run the Region Settings!
See also: ► 
change the language in Windows 10
 ► 
Windows-10 change keyboard language settings
!
Windows 11 looks different but works the same way!
(Image-1) Region and Language Settings in Windows-10!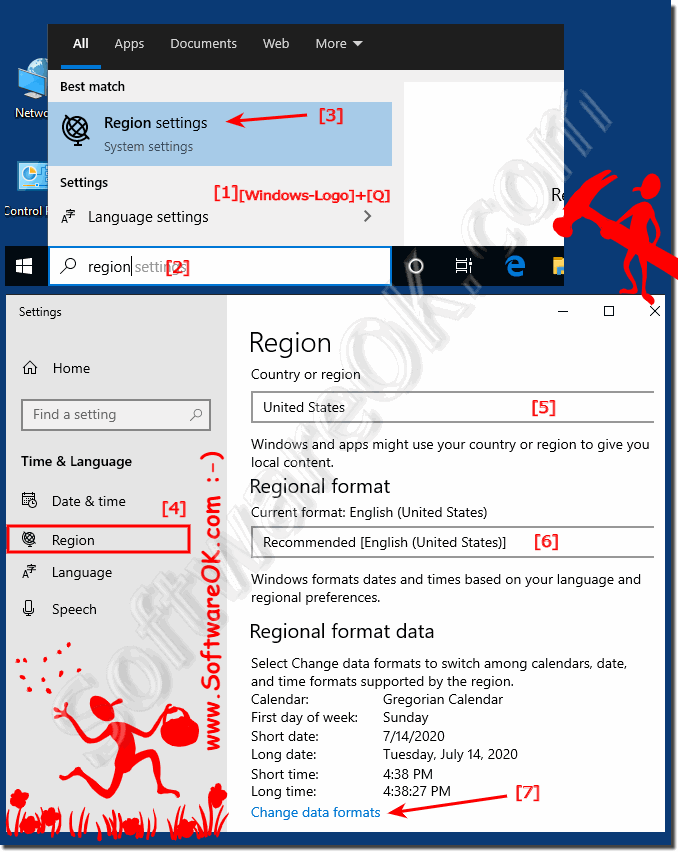 This solution to change Language and Region settings,  is also for : Windows 11, 10 Pro, Enterprise, Home, Windows 8.1, Windows 8, Windows-Server 2019, 2016, 2012, Windows 7 Basic, Professional, Starter, Ultimate
Useful info (c) Microsoft!
When you pick 
regional and language settings
for your computer, such as your standard input language or keyboard layout, you can apply those settings to
special windows user account
in windows called reserved accounts. Reserved accounts include the default user account and the system accounts. These accounts are described below.
2.) What should I consider in the Regional Settings?
When you install a new language pack, the associated keyboard is automatically installed. This has several advantages, especially if languages ​​have different characters or letters are regularly accented. 
Insert:
❤,☀,☁,☂,☃,☄,★,☆,♔,♕,♖,♗,♘,♙,♚,♛,♜,♝,♞,♟,▓,☹,☺,☻,〠,ツ,㋡,*_*,\˚ㄥ˚\, via shortcut key ✮

In Windows 10 Region and Language settings, you can very easy change the format how to the Windows-10 use this to display dates or for example times and currency measurements. If you want you can also customize the sorting order of text to match sorting or to regularize rules used in a specific country or region. 


3.) Classic Regional settings in the Control Panel!
1. Windows + R 
2. use command:
control
3. F3 + "regio" + Enter 
4. Open the
"regional settings"

(
... see Image-2 Point 1 to 7
)
(Image-2) Find the Language and Region settings on Windows 10!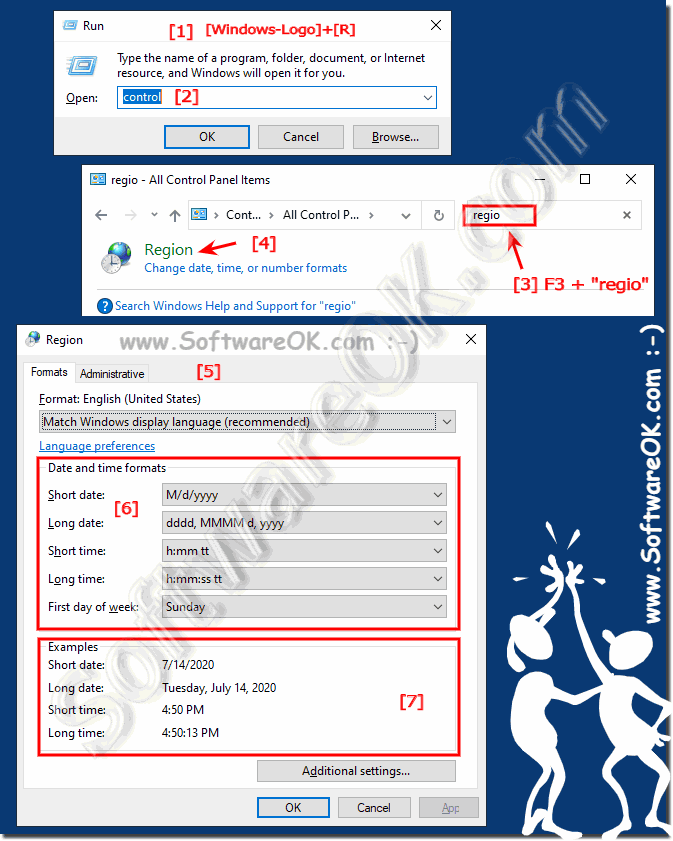 FAQ 201: Updated on: 25 August 2023 14:04