A simple example how to activate IIS Web Server or FTP Server on Windows 10/11, this solution is also for Windows 8.1 and seven!
If you want to activate or deactivate FTP or WEB Server on Windows-10/11, please use the Windows-X Menu and turn it on or turn it off over program and features in Windows 10/11! 

- FTP Extensibility
- FTP Service
- Web Management Tools
- IIS 6 Management Compatibility
- IIS Management Console
- IIS Management Scripts and Tools
- IIS Management Service
- World Wide Web Services 
See also: ► sleep mode in windows 10 ► Wrong decimal symbol ► Windows 10 desktop icons are so big


(Image-1) HTTP FTP WEB Server on Windows 10!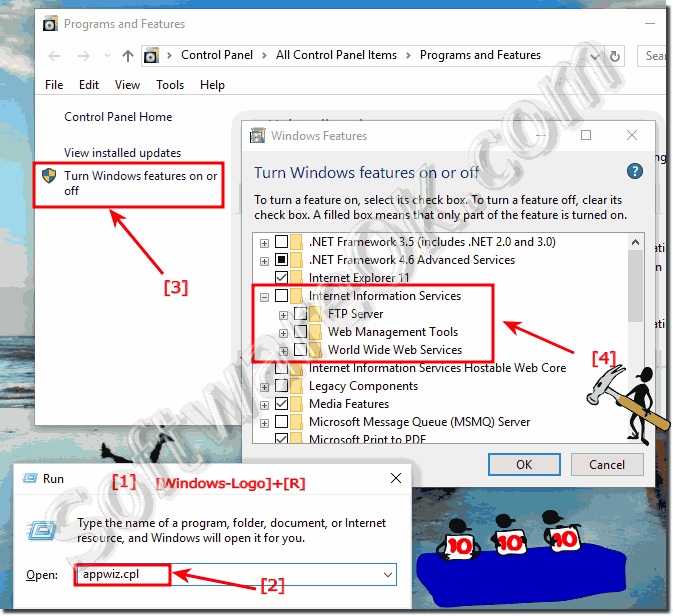 To enable or disable the Web Server or FTP Server is suitable for Windows 11, 10 Pro, Enterprise, Home, Windows 8.1, Windows 8, Windows-Server 2019, 2016, 2012, Windows 7 Basic, Professional, Starter, Ultimate 


See also:
► Run Windows 10 command prompt (cmd.exe) in administrator mode!
► Use own image for the desktop background in Windows 8.1 and 10!
► How can i force move or copy of the data while dragging? 
► .... other Windows 10 features 


Internet Information Services is the web server software included with most Windows and also from Windows 10 PRO. You can also install a web server to serve dynamic content!

File Transfer Protocol (FTP) extensions are now integrated into IIS 8 and can be managed using the IIS Manager on Windows 10.

The File Transfer Protocol is a protocol used to transfer files and folder over the Internet. People commonly use File Transfer Protocol to make files available for others to download, but you can also use File Transfer Protocol to upload personal webpages for building a website or for putting images on a picture sharing site.

Microsoft also equips the desktop version of Windows with Internet Information Services. This makes it possible to turn any notebook into a web server with the Home Edition. Although the configuration is a bit more complex than many free HTTP servers, but the IIS are better integrated into the system.

FAQ 181: Updated on: 25 August 2023 13:59