The solution
is simple to terminate

Unresponsive, Hanged or Frozen programs in 

Windows 10 and 11!






1.) Terminate programs over the Windows 10 Task Manager!
Press the Windows 10 keyboard shortcut [Windows+Shift+ESC] to start the Windows 10 Task Manager. 

Please click on "more details" (... see Image-1 Arrow-2)  to see all the programs and information in the Task Manager! 

To restart a program, please click the right mouse button on the appropriate program! In this example it is the MS-Explorer! You can "Restart" the program (... see Image-1 Arrow-5)  , or close e.g. kill the program with the option

"End Task"

 



(Image-1) Terminate or Restart Programs in Windows-10!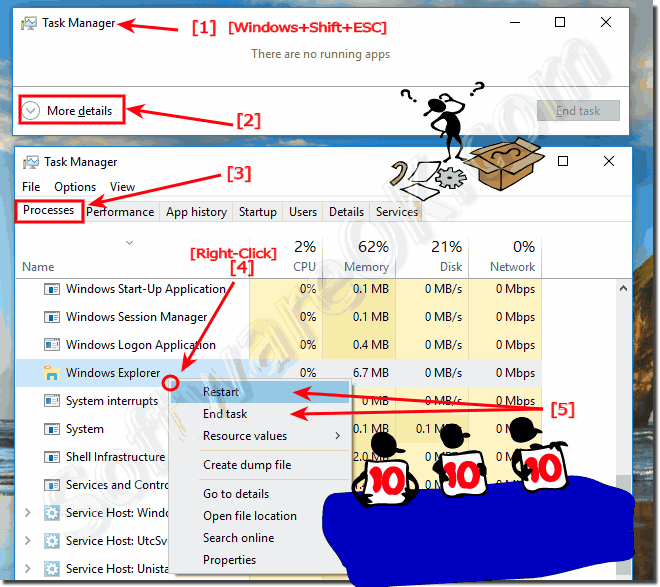 ......

2.) Kill the  Frozen Programs via Windows-10 TASKKILL!

Start the CMD via Windows-X menu in Windows 10 (Keyboard Shortcut Windows-Logo + X)

Example 1: Kill the Windows-10 MS-Explorer and start again!

How to start cmd in Admin mode : ... Run Windows 10 command prompt (cmd.exe) in administrator mode!

Microsoft Windows [Version 10.0.14393]
(c) 2016 Microsoft Corporation. All rights reserved.

C:\Users\User1>taskkill /IM explorer.exe /F
SUCCESS: The process "explorer.exe" with PID 2652 has been terminated.

C:\Users\User1>explorer.exe

C:\Users\User1>

Example 2: batch file to restart the Windows 10 File Explorer
Download ... restart_explorer.bat




taskkill /IM explorer.exe /F
timeout 2
explorer.exe


3.) Close Hanged Programs via the Freeware ProcessKO!
ProcessKO is a famous freeware program that kill hanged and other programs very well in Windows-10 and all other Windows OS. ... read more about ProcessKO!

You can also restart windows-10 programs or processes with ProcessKO!  
Read this ... restart windows programs or processes with ProcessKO? 

 


(Image-2) Use ProcessKO to terminate Programs in Windows-10!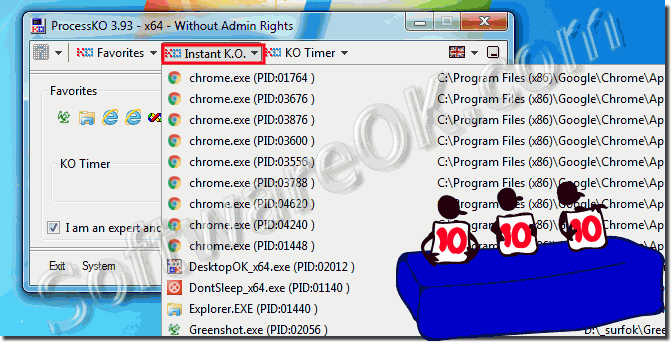 Finally info to quit programs on Windows:
This example to stop hanging programs is suitable for: Windows 11, 10 Pro, Enterprise, Home, Windows 8.1, Windows 8, Windows-Server 2019, 2016, 2012, Windows 7 Basic, Professional, Starter, Ultimate The elegant solution is written not only for Windows 10, as you can see above in Windows 10 shot screenshot, quitting programs is not magic. However, you can use this example Without any hesitation, even on previous versions of Microsoft's Windows operating systems to quit programs even if you were not at Hogwarts Quitting the Hanging Applications and desktop programs on the Windows desktop computer is a bit as easy on the tablet PC, Surface Pro / Go, or even is an MS Server operating system. It really makes sense to have several options to accomplish this task. Use the feature listed here as a solution, whether in the new MS Windows OS or on any of the older operating systems, almost all of them have been tested and successfully 
verified
. 
FAQ 153: Updated on: 25 August 2023 12:37