# About # History # Eula # Help file # Screenshots # FAQ # Download (108 KB) #

DE

EN

Update on: 18 May 2018
Suitable for Microsoft : Windows 10, Windows 8.1, Windows 8, Windows 7, Server 2000-2016, XP, Vista, x64/x32/x86

Process.K.O. is a small useful tool designed to quickly kill any running or hanging process / program on you Windows OS. 


# About the Process Terminator!

ProcessKO is for professionals and experienced users, with very good PC "know-how" (knowledge)!

It is not uncommon amongst developers or program-testers that the program they are testing either doesn't function properly... or that one cannot even close the program (using the Taskmanager). What's more, it's usually always the usual suspects that give the trouble.

► Creating Favorit-KO's for the fast killing of processes or programs!

Developers and bata-testers especially are familiar with this problem: When a program freezes, one usually calls up the task manager by pressing CTRL+ALT+DEL One then must find that frozen program in the list, then one has to find and select the option "End Process". Finally one has to confirm the prompt, "Are you sure you want to terminate the process" with a "yes".

Now one can save many hand moves and also save time! And it's easier than ever. With ProcessKO, terminating any process or program goes faster and ► the windows program can even be restarted from ProcessKO.

# Installation!
ProcessKO does not have to be installed and can be executed easily from the desktop. It's one small, portable utility for Windows PC-s and is also a small usb-stick friend :)

Operating systems: Windows 10, Windows 8.1, Windows 7, Windows Server 2000, 2008, 2016, Windows XP, Ultimate, Pro, Enterprise, Home, Business, Edition, 64-bit & 32-bit edition



# ProcessKO Versions History


New in version 4.41 // 18 May 2018
Changes in the portable use of ProcessKO due to Windows 10 (Protected folder problem)
Enhancements: KO timer More options for the process and app killer on Windows.
Update of the language files in process. K.O.



New in version 4.31 // 9 May 2018
Bugfix: The store apps like Excel, Word etc. are now recognized under Windows 10 and can be closed / terminated.
Update the language files in Process.K.O.



New in version 4.24 // 15 March 2018
Small fixes and rebuilding / compiling of Process.K.O. due to positive false virus alert on Windows 10, even though no virus was present.
Update the language files in Process.K.O.



New in version 4.21 // 6 February 2018
Small adjustments and cosmetic corrections in Process.K.O.
Update of the languages files in Process.K.O. plus new Language: Korean.
--
Thanks to Venus Girl ♥ for the Korean language



New in version 4.14 // 7 January 2018
Bug-Fix: When recognizing the standard language (default user language).
Update of the languages files in ProcessKO and improvements




... complete Versions History




# ProcessKO is multilingual:

Program Keys:

Program Keys: process, kill, desktop, tool, explosion, fast, killing processes , programs, restarts, executed, easily, small, usb-stick, friend, portable, utilityListed at: Softwareload.de ZDNet.de softpedia.com freewarefiles.com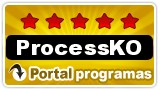 * Close Hanging Programs, Apps and Processes on Windows! 
---
# About # History # Eula # Help file # Screenshots # FAQ # Download (108 KB) #

DE

EN