The simple solution to change, switch or install a new language in Windows 10 on all Builds!






See also:
► Spell-Checking or Auto-Correction ► open in Windows 10 all apps folder ► Personal Files Folder in Windows 10   


1.) On Windows 10 from Redstone / Crators install and uninstall languages!
Simply use the keyboard shortcut 

Windows-Logo + I

 and type in "language", type in and  click on "Change language and keyboard" !  

It is now quite easy to install more language packs in your Windows 10.  

Or switch the language  (... see Image-1 Point 1 to 5)



(Image-1) How can I change / install / add the language(s) in Windows 10?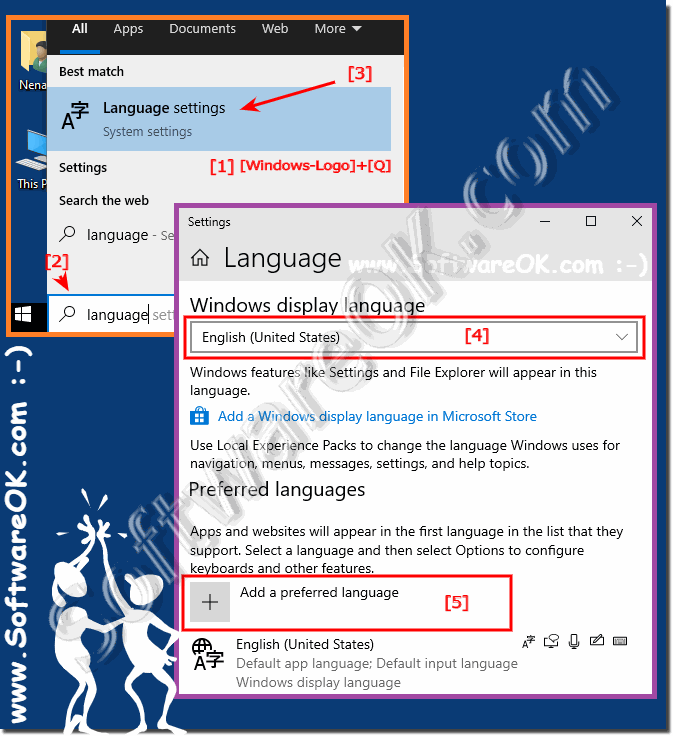 2.) Install and uninstall languages in Windows 10!
To install additional languages for Windows 10, or to change the current language, please press the key combination [Windows Logo] + [R] and enter the command control.exe /name Microsoft.Language (... See Image-1 Arrow-2).

Likewise, you can open the Windows-10 language settings (Image-2) via the "Control Panel"
See: ... Open Control Panel in Windows! and then click the icon (symbol) "languages".

Now you can install other language for the Windows-10 (... see Image-2 Arrow-1). 
Move after installing the required language to the first position. (... see Image-2 Arrow-4)
Likewise, by a clicking on "Remove" Button you can uninstall unneeded languages from Windows-10.



(Image-2) Change the language in Windows-10!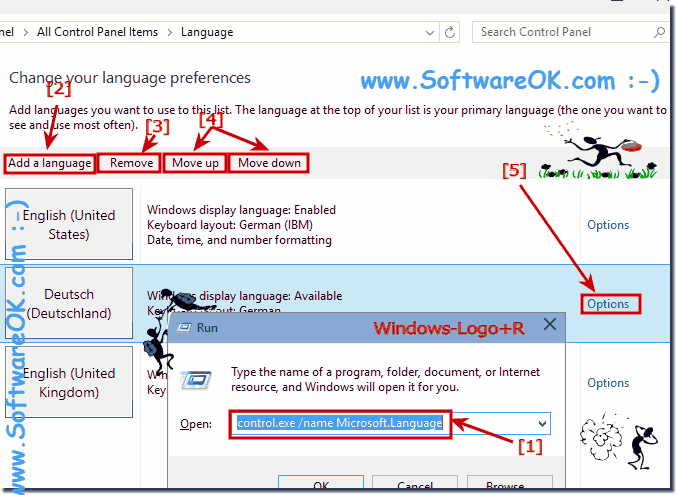 To change the account language, go to the Region and Language page, select the language, and click the Use as Primary button. A pop-up notification appears that the new language setting will take effect the next time you log on to your account. Log out of your account and log in again to view your new language. If you want to change the language of another account, you must first sign in. Under Windows 10, you can specify different languages for each user account.


3.) Set a primary language as the display default language in Win 10!
Under Windows 10, it passes the language you want to use just to move it up the list and simply log on to the Windows 10 computer, or unsubscribe, or the PC re-starting.

Even if click be the language Options (... see Image-3 Arrow-5)  and click on the text "Set as primary language,".
(... see Image-3 Arrow-1)

Then comes the message box to log-out from the Windows-10 PC.

You have to make but not immediately. The language change may not happen until after you log on to Windows 10 PC (logout / login)!

Tip: At this point, you can also change the Keyboard layout input method ergo language! (... see Image-2 Arrow-2)
► ... How to open Language settings.




(Image-3) Primary and Default Language in Windows 10!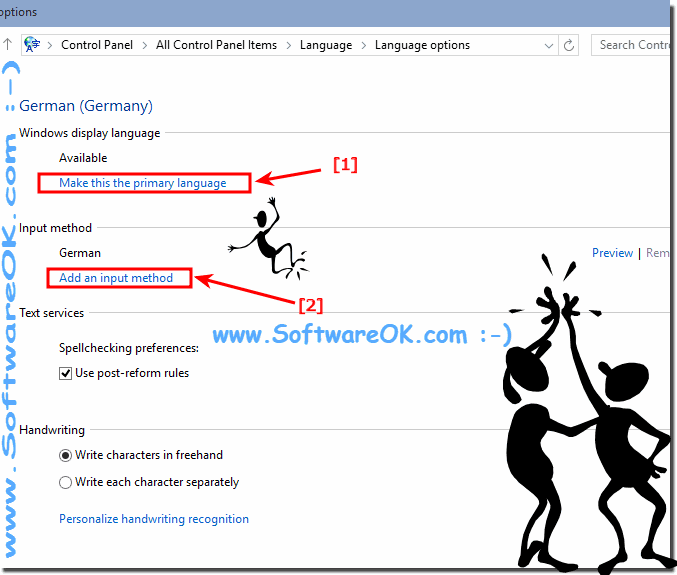 How to change the language in Windows 10?



Changing the main language of the system is important if the computer is used by users who prefer other languages. You can download and install additional language packs for Windows 10 to display menus, dialog boxes, and other interface elements in the language you want.

See also: 




Install or change the language in Windows 10 is a very important key feature in Win 10, You can change the default system language on Windows 10 without reinstalling it, especially for newcomers to Windows 10 who are familiarizing themselves with the migration to the Windows 10 Tablet from the Apples iPad. this is a problem on Windows 10. The default language configuration is usually used during the installation process!







FAQ 13: Updated on: 10 December 2019 15:49