Some programs and features included with Windows 10, such as Internet-Explorer and some Services, must be turned on before you can use on Windows-10. Certain other programs and tools are turned on by default, but you can turn them off if you don't use them!


If you want to activate or deactivate some of Windows-10 features  please use the Windows-X Menu and turn on or turn off!

For example Internet Explorer 11 (... see Image-1 Arrow 1 to 4) See: ... list of Windows-10 features.

See also: ► find installed program files in windows 10 ► default printer settings in Windows 10 



(Image-1) Windows-10 features Turn-of or Turn-on!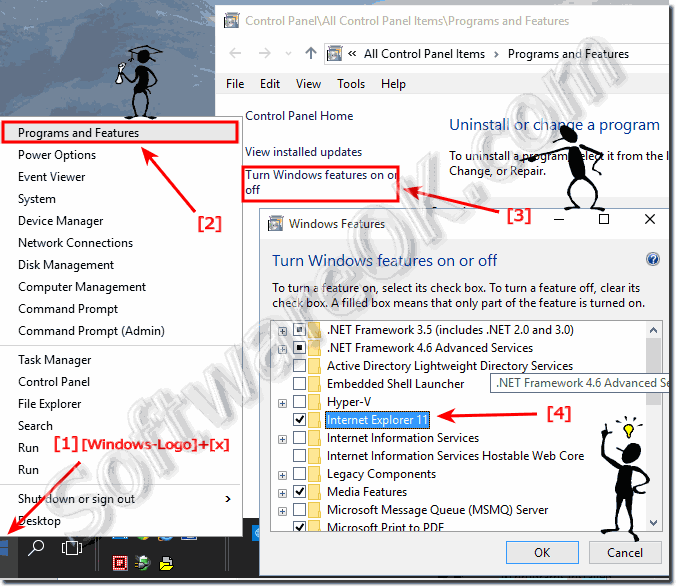 See also: ► Hibernation settings windows 10 ► Windows-10 Standard User to Gust-Account 

List of the Windows-10 features!
.NET Framework 3.5 (includes .NET 2.0 and 3.0)
Windows Communication Foundation HTTP Activation
Windows Communication Foundation Non-HTTP Activation
.NET Framework 4.6 Advanced Services
ASP.NET 4.6
WCF Services
HTTP Activation
Message Queuing (MSMQ) Activation
Named Pipe Activation
TCP Activation
TCP Port Sharing
Active Directory Lightweight Directory Services
Embedded Shell Launcher
Hyper-V
Hyper-V Management Tools
Hyper-V GUI Management Tools
Hyper-V Module for Windows PowerShell
Hyper-V Platform
Hyper-V Hypervisor
Hyper-V Services
Internet Explorer 11
Internet Information Services
FTP Server
FTP Extensibility
FTP Service
Web Management Tools
IIS 6 Management Compatibility
IIS Management Console
IIS Management Scripts and Tools
IIS Management Service





To turn a feature off in earlier versions of Windows, you had to uninstall it completely from your computer. In the Windows-10 , the features remain stored on your hard disk so you can turn them back on if you want to. Turning off a feature does not uninstall the feature, and it does not reduce the amount of hard disk space used by Windows 10 features.

Some Windows 10 programs/features are grouped together in folders, and some folders contain sub-folders with additional features and windows 10 tools. If a check box is partially checked or is dimmed, then some of the items inside the folder are turned on and some are turned off. To view the contents of a folder, double-click it.



FAQ 100: Updated on: August 10th 2017 18:54