It is easy to use custom textures
for the desktop CLOCK

from version 7.01 on all MS Windows 11, 10, ... Desktop and Server OS!




Anyone who has good knowledge of graphics, PNG, alpha transparency, ... can design their own desktop clock in no time at all without much effort, in general everyone should be a little familiar with digital graphics, this can only be an advantage!




Content:



1.) Here is a simple children's watch that I put together in 10 minutes!
With the search term: Transparent PNG MICKEY MOUSE I quickly found the images on the Internet and edited them with the ancient Ulead Photoimpact 8.0, but it also works with any other program that can handle transparency or alpha transparency!

You can integrate shadow effects into the pictures yourself (if you can), but you don't have to, because the desktop Aero clock ►  TheAeroClock automatically offers the shadow effect for the user-defined pictures, which makes the clock appear better and more professional.




(Image-1) Use a custom texture for the desktop CLOCK!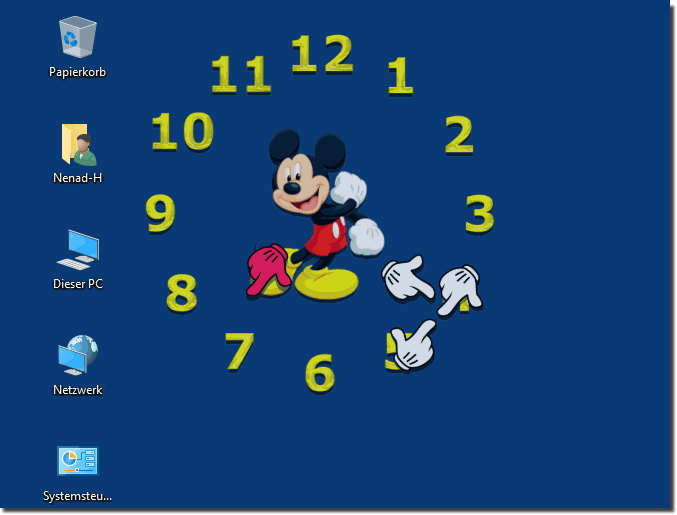 2.) The rules for custom images!
1. Open the folder of the Ini file

2. Create the folder img

3. You can then use this for your own texture of the desktop clock

(... see Image-2 Point 1 to 6)




clock _*_ bg.png

 is the basic image for your own CLOCK  

Here is the layer sequence



clock _*_ bg.png

    < Background


clock _*_ cf.png

     < Clock Face


clock _*_ hour.png

< Clock hand


clock _ *_ min.png

< Minute   hand


clock _*_ sec. png

  < Second hand

It works also with only two images:



clock _*_ bg.png

    < Background


clock _*_ min.png

  < Minute hand

In this case, the clock hand and the second hand are generated from the minute hand! 

But it works also with one image: 
or only

clock _*_ bg.png

  <  Background 

Then the alternative second hand is used ;-)



(Image-2) Custom user texture for the desktop clock the Rules!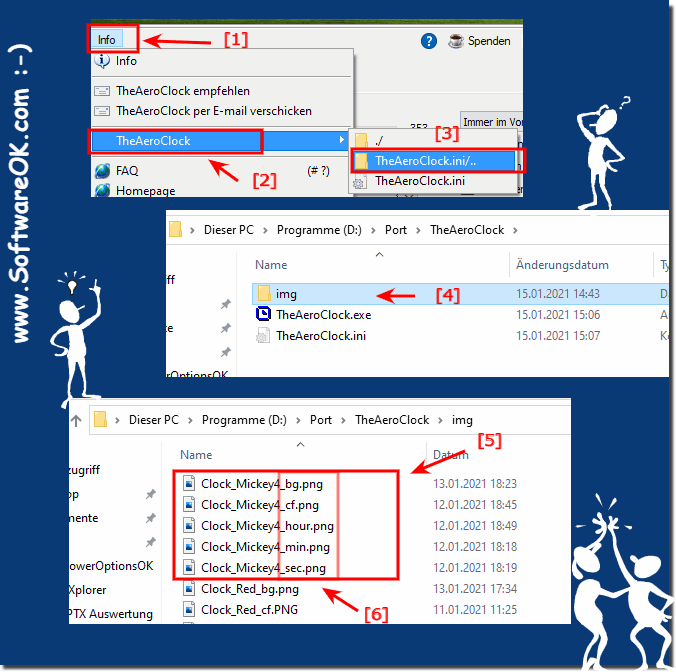 3.) What should I consider about ...... and so ...?
As a rule, you have no problems with copyrights when creating personal watches for your own use, i.e. private use. I have omitted the colored MICKEY MOUSE from the example MICKEY MOUSE clock. But everyone can integrate that themselves, because with the right search term you can find everything ;-)

 




4.) ... Tips for searching images for the desktop CLOCK!


The term PNG and transparent is always an advantage, regardless of whether it is Google Images Search or Bing! 

For example:

► Transparent PNG MICKEY MOUSE
► Transparent Harry Potter brush
► Transparent broom PNG

Tip: ►► if you have problems with transparency in some images!



5.) ... Download the sample pictures for the desktop clocks!






PS:
I will add more pictures and textures at times, now only as a template 



FAQ 13: Updated on: 28 July 2022 10:03