Experimenting with the settings in the Windows 11, 10, ... etc. registry makes sense, but a backup in order to be able to restore it is also useful!


Editing is sometimes useful, but if you make major changes to a registry area, you may make some registry key changes or accidentally delete registry area and system-critical entries and if you are not entirely sure whether the changes are correct, you should possibly make a backup for the registry key in question! 





1.) Prepare registry key backup and restore + create a copy!  
Here in the example the desktop settings of Windows Explorer!

Backup:
1. Right click on the complete folder and export and create a copy ergo backup

2. If you have made mistakes, you can restore the values ​​in the registry editor.

To restore:


3. Double click on:  C:\Users\Nenad\Desktop\My_Windows_Desktop.reg 



4. Adding information to restore old registry 

 

5.

Would you like to continue?

confirm with

[Yes]

(

... see Image-1 Point 1 to 5

) 

(Image-1) Backup and restore registry on all MS Windows OS!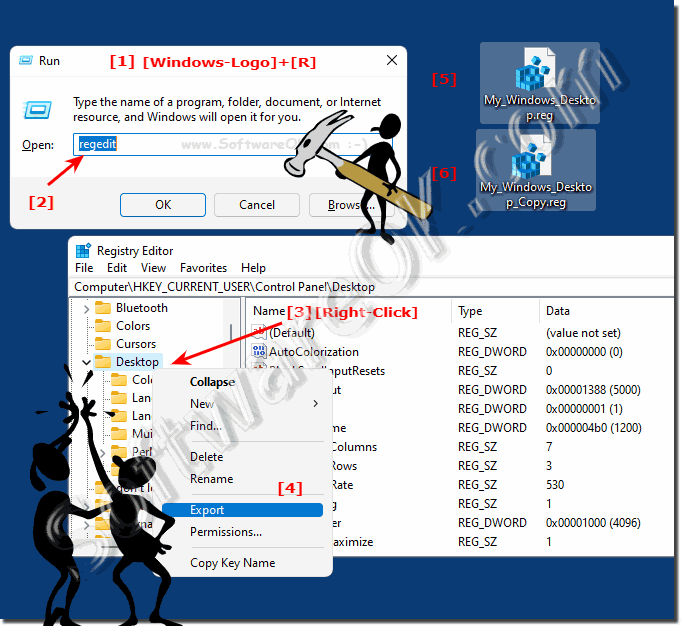 2.) Easy make registry changes and change entries!
In the text editor you can edit the registry values ​​much faster, especially if you have to change several values ​​you are finished much faster and the convenient copying of the *.reg file can undo all registry changes!

(... see Image-2 Point 1 to 4) 




(Image-2) Edit, change and undo registry entries!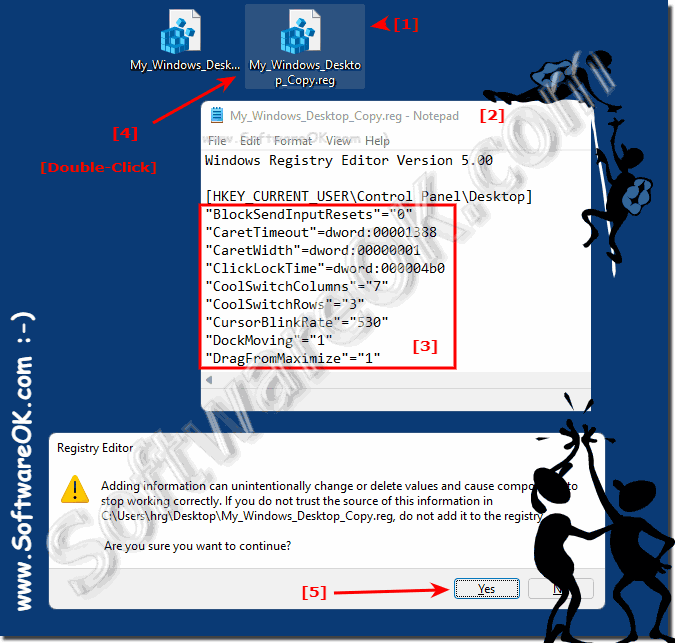 3.) Make registry changes yourself in the registry editor!

You can also edit one entry after the other directly in the Windows Registry Editor, which is also useful for individual changes!

(... see Image-3 Point 1 to 4) 

►► Making a backup of the registry is also useful here, because errors cannot be ruled out here either, or that you may forget the standard registry value!  




(Image-3) Edit registry entry individually!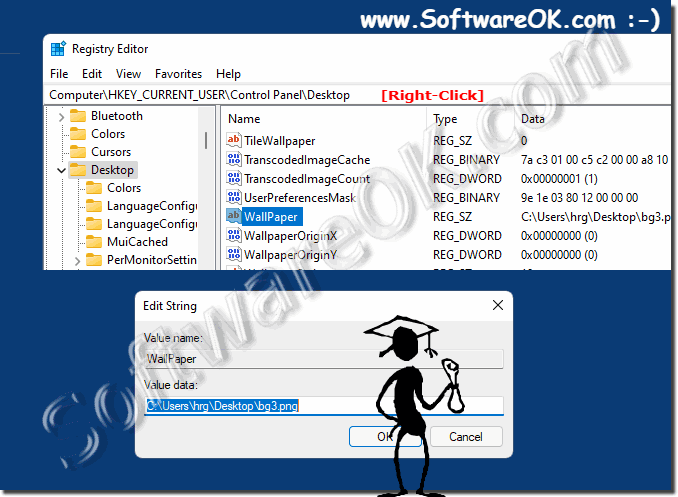 4.) Be careful with the registry changes!



Caution!

Poor editing and changes in the registry can seriously damage your Windows system. Before making changes to the registry, you should back up the data on your PC.

 

Note!

If you make a mistake that prevents your PC from starting properly, you can restore the registry.



The Windows Registry is a central database that stores information and settings for the operating system and applications. Registry changes can have a significant impact on system stability and performance. Therefore, you should be very careful when making changes to the registry.


Here are some tips to keep in mind:

Create a backup: Before making any changes to the registry, it is a good idea to create a backup. This will allow you to restore the system in case of problems.

Experienced Users Only: The registry should only be modified by experienced users or under the guidance of a professional.

Know exactly what is being changed: Before making any changes, you should understand exactly what impact the change will have on the system. Incorrect settings can lead to malfunctions.

Gradual changes: It is advisable to make one change at a time and then check whether the desired result has been achieved.

Using system tools: When possible, you should use system tools or third-party applications to adjust settings instead of working directly in the registry.

Making non-specific or unsafe changes to the registry may cause your system to become unstable or malfunction. Therefore, it is important to be careful and only make changes if you know exactly what you are doing.



FAQ 1: Updated on: 11 November 2023 15:55