If a process that you can not finish gets the error "access denied" or the process is not an executable windows file!
1.) Change to the administrative mode on Windows 11, 10, ... and MS Server OS!
1. Please start the current version of ProcessKO for Windows
2. Start / Activate: "execute in admin mode" 
Now you can quit/close  almost all programs and processes that may have a hung up.
(Image-1) Admin rights when scheduling programs under MS-Windows!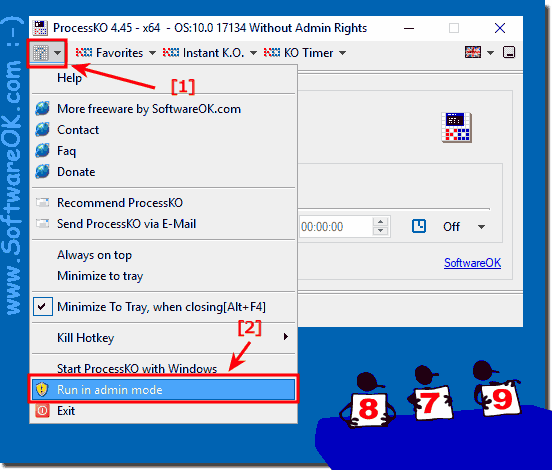 Info:

The elegant solution is written not only for Windows 10, to with and without administrative rights easy doing when closing and quitting programs and applications. As you can see above under Windows 10.

However, you can easily force this solution to quit programs and applications without hesitating to use older versions of MS Windows operating systems, regardless of whether the programs and applications are closed on a Windows desktop, tablet, Surface Pro / Go, or even a server operating system.


2.) What to pay attention to in the program / APPs Close in admin mode?
A wild and unnecessary closing of the APPs and / or Microsoft Windows programs is not advisable and may lead to data loss without the required expertise.  
For this reason, there is the professional clause in Process-KO: as well as in ThisIsMyFile: 
(Image-2) I am an MS Windows expert!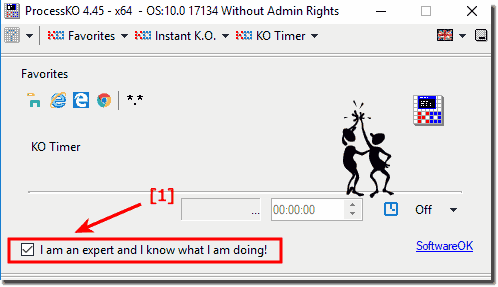 Info:

It is sometimes very useful to use this program terminus as a simple yet effective tool, whether in the new MS Windows OS or on any of the following older operating systems it has been tested and successfully verified at all.


FAQ 8: Updated on: 4 August 2021 06:34