The printer queue folder can be opened and viewed under Windows 11, 10, ... or MS Server OS in the file explorer, the open print jobs are saved here!


Contents:



1.) The folder for print jobs under Windows!
The little-known folder for print jobs can be opened quickly at any time to simply check it, or to delete everything, administrative rights are required for this!

Caution! You have to stop the Windows print service to delete these files!

The printer queue folder:
 



%windir%\System32\spool\PRINTERS




(... see Image-1 Point 1 to 4)

Optionally, you can also use  C:\Windows\System32\spool\PRINTERS directly without using the environment variables or use the famous ► Delete.On.Reboot APP for all MS Windows OS!




(Image-1) The Windows printer queue folder!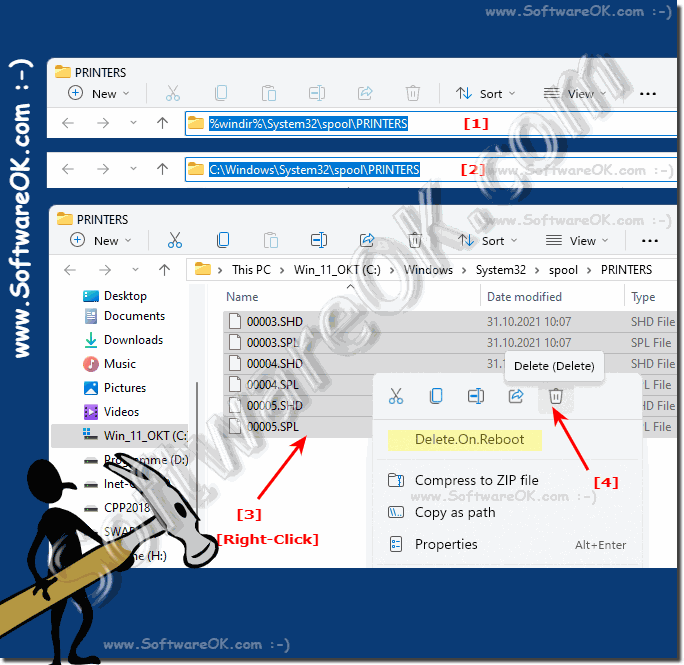 2.) Further information about the folder for print jobs under Windows!



The C:\Windows\System32\spool\PRINTERS folder is a directory on Windows computers that stores temporary files for print jobs waiting or processing in the printer queue.

Here is some information about this folder:

 

Location: The path to this folder is usually

"C:\Windows\System32\spool\PRINTERS"

. 

This folder stores temporary files created by Windows for print jobs. When you send a print job to a printer, a temporary file is created in this folder before it is sent to the printer.

 

Sometimes print jobs get stuck in the queue or errors occur. In such cases, it may be necessary to delete the contents of this folder to reset the print queue. However, please note that deleting files in this folder may result in the loss of unfinished print jobs.



Typically, you need

administrative rights

to access or delete this folder and its files. Be careful and only remove files from this folder if you are sure it is necessary.

If you delete files from this folder, I strongly recommend backing up beforehand or making sure there are no important print jobs waiting in the queue.

 

Remember that deleting files from this folder is only a temporary solution to

printing problems

. If you have recurring problems with your print queue, you should investigate the cause of the problems and perhaps update drivers or take other measures to improve the stability of your printing system.




is a part of the Windows operating system that has the task of managing print jobs and passing them to the printer in the order in which they were received. If you want to open the print queue in Windows Explorer, you can do it in a few different ways depending on your version of Windows.





FAQ 3: Updated on: 27 September 2023 03:37