DPI stands for Dots Per Inch, which technically means dots per inch for photos, screen display and scans a well-known value!

Nowadays it is a confusing term that is often confused with PPI, which stands for pixels per inch. When someone says they want a 300 dpi photo, it really means they want 300 dpi.


Content:
1.) The DPI value!
The DPI value describes the density per inch with which the pixels were printed / scanned!
So a DPI value of 300 means that 300 pixels are scanned / printed per inch. An inch is 2.54 centimeters. So that's 180 pixels per centimeter, or 18 pixels per millimeter (Row)! 
300 x 300 = 90,000 Per square inch
The higher the DPI value, the more qualitative the print-scan result, in theory! However, the print quality also depends on the printer, printing paper ... And when scanning from the scanner, scan source, ...! 
Here is an example of 100 x 100 DPI when scanning with ► 
WinScan2PDF for MS Windows
(Image-1) Example value at DPI 100 DIN A4 when scanning!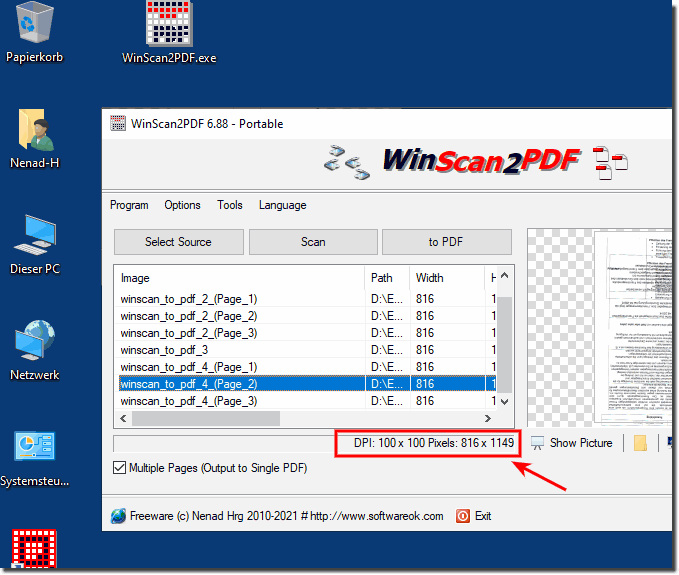 2.) The PPI value!
In general, no distinction is made between dpi and ppi. In fact, these terms are largely used interchangeably. So PPI is the same as DPI, only that it is often used for photos and DPI for hardware: printers, scanners, ...!  
FAQ 241: Updated on: 26 September 2021 14:49