No! "Don't Sleep" don't changed the "power saving options" on your system. Also not, registries entries or other settings!



Don't Sleep only prevent and block your selected options!

Depending on the setting, DontSleep reports to the operating system that it has important tasks to perform, if the screen saver is to be activated or the monitor is to be deactivated, it will be send the comman that it is needed.

Please use ... always if possible the latest version of Don't Sleep! 



(Image-1) Best Standby Hibernation prevent option on Windows!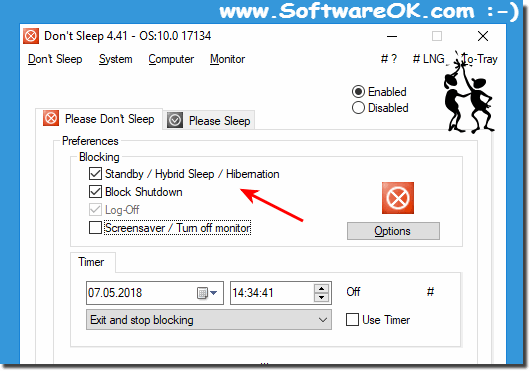 Likewise, it tells the system that it has the highest shutdown priority to prevent other programs from receiving the shutdown command before "Do not Sleep" and possibly closing it before "Do not Sleep" intercepts it can.

The nice thing here is that the CPU load of Do not Sleep is zero and the operating system is not unnecessarily burdened.

The main reason or task in Dont Sleep is to prevent programs and applications from being prevented from completing their task in a timely manner by standard mode before completing their task. Such as longer downloads or video decoder software, this sometimes takes hours and days to complete your task.  




Info:

The system settings power options must not be changed by this tool. This screenshot has been made on Windows 7, as you can see in the Windows 7 shot screenshot above, but you can easily use this tool as a solution if you experience problems with power options at all Versions of Microsoft's Windows operating systems also use it when it's a plain Windows 10 desktop, or on the go to save mobile energy on the tablet, Surface Pro / Go, or even on a server operating system.






FAQ 1: Updated on: 14 January 2019 10:33