It's easy to customize or change the download folder in Edge Chromium on all Windows Desktop and MS Server operating systems!
Contents:
1.) Changing the download folder in Edge Chromium!
1. As always, launch Edge Chromium
2. Go to the
"..." menu
at the top right
3. And open the
Edge Chromium Settings
4. In the settings go to the "Downloads" option
5. And
change the default download folder
(
... see Image-1 points 1 to 4
)
PS:
The standard download folder
is usually used by all browsers, including Edge Chromium, but you can also use the default for Edge at any time Change download folder, or adjust that every time
the storage location is asked before the download
, (
Point 5
) for each individual file that is downloaded select the download folder!
TIP: ►►
Edge-Chromium Download folder and behavior
(Image-1) Adjust the download folder in Edge Chromium or change!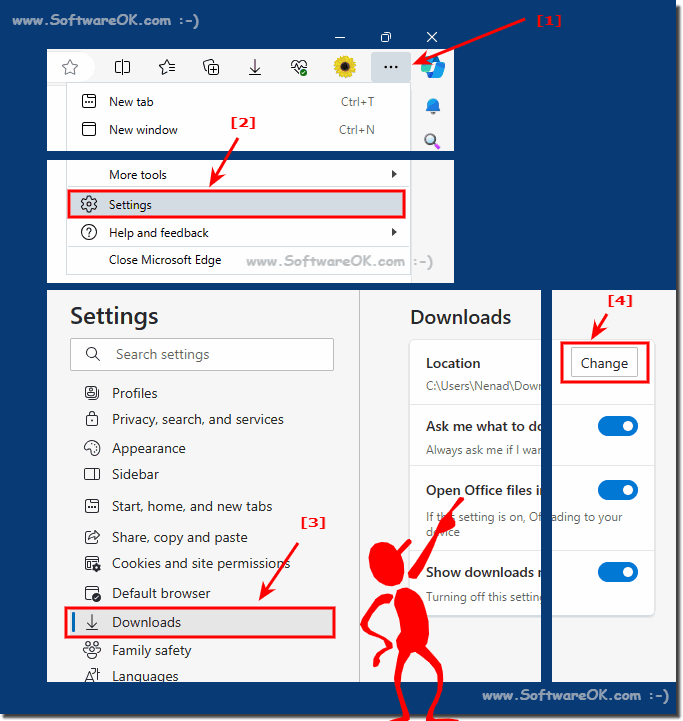 2.) What should be noted in the download folder from Edge Chromium

When you download files from the Microsoft Edge Chromium browser, it is important to manage and monitor the downloads folder to protect your computer and organize your files. Here are some things you should keep in mind:Manage storage space:


Check for malware:
When you download files from the Internet, especially from unsafe sources, you should make sure that these files are not infected with malware. Therefore, use a good antivirus program to scan downloads before opening them.
Organize files:
Create folders in the downloads directory to organize your files. For example, you can create separate folders for images, videos, documents, etc. This makes it easier to find specific files.
Enable automatic cleanup:
Modern browsers like Microsoft Edge often have features to automatically clean up the Downloads folder. Enable these features to automatically delete older files or move them to the trash.
Track Downloads:
Use the built-in download history page in Microsoft Edge to view all your downloads and monitor their status. You can view this page by clicking the three-dot menu in Edge, going to Downloads, and managing your download history there.
Be careful with sensitive files:
Be careful when downloading sensitive or confidential files. Make sure you download files from trusted sources and use encryption and passwords when necessary.
Rename downloads:
If you download multiple files with similar names, it may be helpful to rename the files immediately after downloading to avoid confusion.
Manage downloads:
If you download a lot at once, use Edge's download management feature to control the progress and priority of downloads.
Info:

Check your Downloads folder regularly for files you no longer need. Delete files you no longer need to free up space on your hard drive. By following these tips and regularly monitoring and organizing your Downloads folder, you can improve the efficiency of your browsing experience and keep your system clean and secure.