It's easy to switch to standby mode on any Windows OS as soon as possible if nothing happens on the PC!
Simply set the timer in the group field "Put the Computer to sleep mode" as in the example on "2 Mintes" and select the desired time when the standby message should appear!


(... see Image-1)

PS: The behavior has been improved in 

Auto Power Options OK Ver. 1.61!
 
Info:
In particular, the new Windows 10 based on the many APPs has a bad hibernation behavior and it does not always switch to sleep mode as desired, with 
Auto Power Options OK
 they can change that!
As well as under Linux, Appel's Mac OS, or Google's Android there are various timers that switch the computer to standby mode for better energy efficiency and environmental awareness at a specific time.
As you can see, it is quite easy to influence and switch to standby as soon as possible.
Also suitable for older versions of Microsoft's Windows operating systems, whether it's a Windows desktop, tablet, Surface Pro / Go, or even a server operating system.  



Please use always:
the newest version of Auto-Power-Opions under Windows
!

(Image-1) If you do not do anything on your PC, switch to standby mode as soon as possible!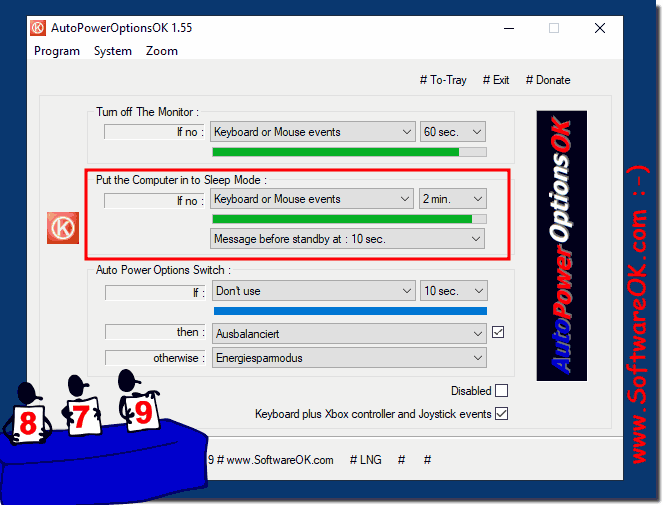 I work in the gaming industry and need a powerful (ie power-hungry) PC accordingly.
However, I almost lost my eyes when I was allowed to examine the last electric bill.
Of course, I do not need the absolute maximum power all the time.
For a lot of the time I am on the PC, I get along well with only 50% of the processor power.
For this I have created an extra Power plan, on which after 30 seconds without input to be switched, which also works perfectly.
However, it has already happened several times that after some time (and I mean after a few hours of use) the program gets stuck.
In the meantime I'm more and less on the computer.
It also happens that the computer turns off the monitor or goes into sleep mode.

►►  ... The rule that prevents the computer from going into standby during a download?