Under Windows 11, 10, 8.1, ... it is easy to copy or move files without directories!

Especially when you import photos from your camera, or SD card via or with any of the Photo App, or Desktop application, many subfolders are created in the destination folder that may not be what you want. Here's a step-by-step guide to moving all files from multiple subfolders recursively to a folder of your choice.


Content:
1.) Move or copy several files from different folders into one!
1. Start the standard file explorer (Windows+E)
2. Navigate / Open the relevant folder 
3. Activate the file search with the F3 key
4. Select / enter the search term
*.?
5. Ctrl+A to select All
(
... see Image-1 Point 1 to 3
)
it is!  
quite easy to copy the files, even if they are in different folders, without great expertise.
Especially with many videos, or movies.
You always have to
resort
to external tools such as the quad-explorer , the standard file manager is sufficient here! 


(Image-1) Copy files without directory under Windows 10, 8.1, ...!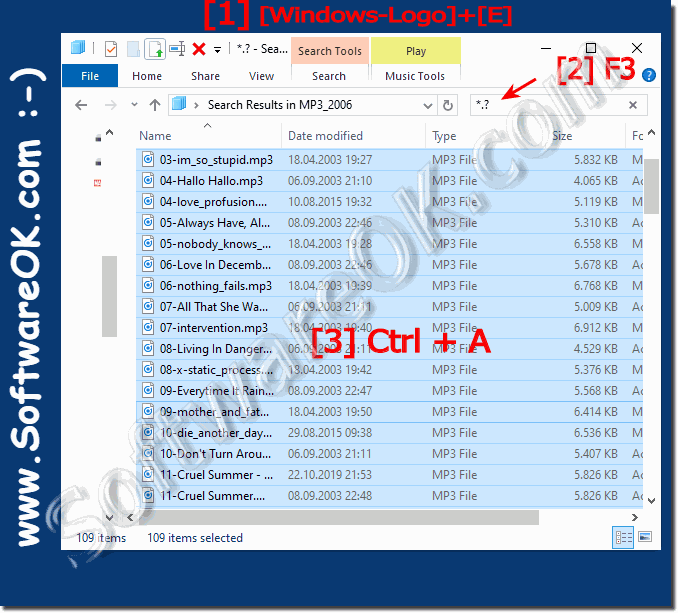 Info:
After making sure that all files have been moved, the folders in the old location can be deleted. This tip does not just apply to photos imported from the camera. In all other situations, the procedure for moving or copying all files from multiple subfolders to a separate folder is the same. When you copy or move files and folders by using Windows Explorer, the
permissions set
on the files or folders may change. For example, if you have a file in an NTFS file system, or between two
NTFS partitions
 copy, Windows 10, 8.1, ... will treat it as a new file. As a new file, it takes over the permissions of the destination folder and you automatically become the creator or owner.

2.) What are the advantages of moving or copying files from different folders to one?

The exact benefit depends on the individual needs of the user. If you want to better organize your files, save storage space, or create a backup, moving or copying files from different folders to one folder can be a good option.


Moving or copying files from different folders into a single folder can be beneficial in different situations depending on your needs and purposes. Here are some of the benefits:
Better organization:
By merging files from different folders into a single folder, you can organize your files better. This can be particularly useful if you have a lot of files and need to keep track of them.
Backup copies:
Copying files to a central folder can serve as a backup measure. Backing up important files in one place reduces the risk of data loss.
Easier Access:
If you need to access certain files frequently, moving or copying them to a central folder can make them more accessible, eliminating the need to navigate between different folders.
Share files:
If you want to send files to other people, it's easier if all the files are in a single folder. This makes sharing and sending easier.
Avoid duplicates:
Merging files from different folders can help detect and avoid duplicates. You can delete duplicate files to save storage space.
Easy backup:
If you want to select a specific group of files to backup, you can do so more easily if they are in a folder.
Easier Search:
Searching for files in a folder can be faster and easier than searching across multiple folders. This can save time.

It's important to note that moving or copying files to a single folder can also have disadvantages, especially if the original folder structure is important or you rely on organizing files in different folders for space reasons. Therefore, you should base your decision on your needs and goals for your file organization.