For two, three, ... monitor screens on a PC use the function Multiple-Displays of Windows 10 and 11!
Windows 10 and 11 has become even more user-friendly for Surface users, laptops, notebooks, and desktop computers.
In Windows 11/10, this easy-to-use desktop interface provides better usability and functionality for two or more screens.
Here's how you can use this feature on a mobile device or desktop computer running Windows 11 and 10.


Please start the
Windows 11 / 10 monitor settings
 with the 
Windows logo + I
key combination
and enter the text
"Display"
. 
Drag and drop each ad in the "Choose ads and rearrange" section to rearrange them according to their physical layout on your desktop.
See also: ►  
Using the external screen with the notebook folded down under Windows 11&10
!
(Image-1) With several Monitors make the Windows 10 desktop better to use!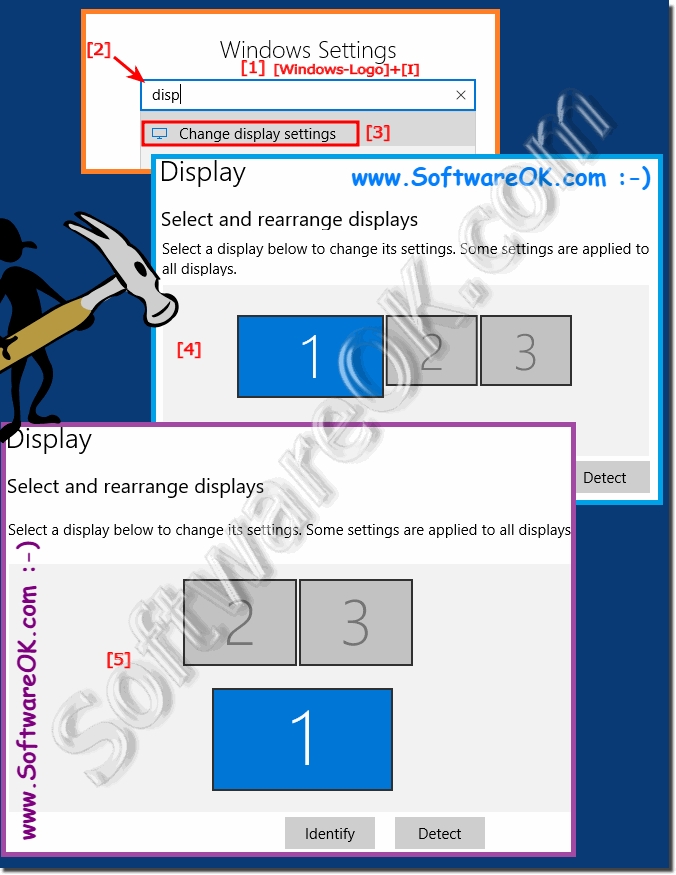 Info:
Although you can work great with a screen on one of the available screen ports, it is sometimes even easier to work when setting up a dual-screen, or triple-screen system. However, it is not uncommon for the screens to be arranged in the wrong order. As long as it's working right the first time, using the Windows mouse and running applications will make you realize you need to fix screen positions, but re-arranging makes it easy.