Using a desktop button, better known as a shortcut, it's easier and faster to start WordPad!
You can start the free writing program 
Word Pad quite easily
, but this is a tedious story, because you have to take several steps here, especially if the dialog does not open. Here's an elegant solution on
how to open the Word Pad on Windows 11/10
, whether you want to quickly use the Word Pad for writing on the Windows desktop computer, or on the go on the Tablet PC, Surface Pro / Go!
Start directly the Word Pad via a Windows 11/10 Desktop Button!
1. Press the
Windows logo + D
key combination to see the desktop!
2. By
right clicking
on a free space, the selection menu appears,
3. here just click on New and shortcut, in the first window enter the command:
C:\Program Files\Windows NT\Accessories\wordpad.exe
as name in the second window you can enter
"Word"
or
"WordPad"
(
... see Image-1 Point 1 to 4
)
The procedure is similar to: ► 
... Windows 10 desktop shortcut for programs
!
(Image-1) Start WordPad via a desktop button on Windows 10!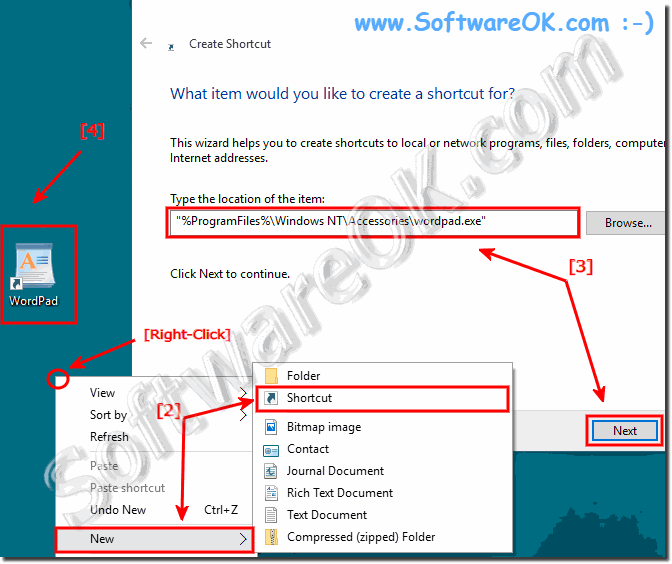 The text program WordPad!

WordPad is a word processor that lets you create and edit documents. Unlike the editor, documents in WordPad can contain complex formatting and graphics. You can define links to objects in a WordPad document, or embed objects such as images or other documents. Start WordPad from the Start menu of Windows. WordPad can be found in the Accessories folder. WordPad Window On the ribbon, by default, the Paragraph group has the Left Justify button and Font Size 11 with the Calibri font enabled. Create, open, and save documents Click the WordPad menu button to create, open, or save documents!