There is a text editing and writing app / program, that is a free part of Windows 11 and Windows 10, it is very good for example to write short letters!
There are many free text editing programs, but sometimes you do not have to search for a long time, or before you make megabytes of downloads, you can test the WordPad or Notepad if it does not already do what you need, regardless of whether it's a MS Windows 11 and 10 Desktop PC, on the go on the tablet or Surface Pro / Go, or even in the office on an MS Server OS.


Content / Tip:
1.) Start the free Windows 11 / 10 text writing program!
PS: With Windows 11 it looks different but works the same way!
Word pad can be started quickly in Windows 10/11,
Windows + Q
key and as 
word
input
Word
. 
(... see Image-1 Point 1 to 3)

If you would like to use Word for free, you can do so online in an online version. https://office.live.com/start/Word.aspx

However, this is only possible in the browser online, as well as with the own Microsoft account, with which one must log on.
If no account is available, then you have to register first.  



Image-1-Start free Writing program in W 10 11!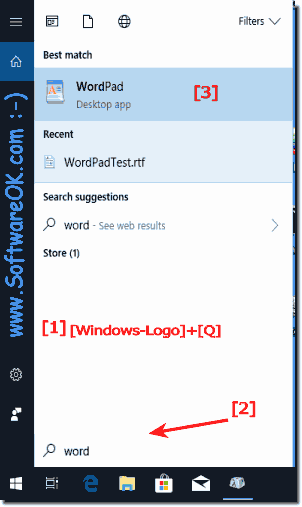 The structure of WordPad is similar to the MS Word provided in Microsoft's Office package, but the Word Pad writing program is completely free in Windows 11 / 10. As a desktop app, it has also been completely redesigned and is very easy to use.
(Image-2) Text Edit and Writing program for Windows 11 / 10!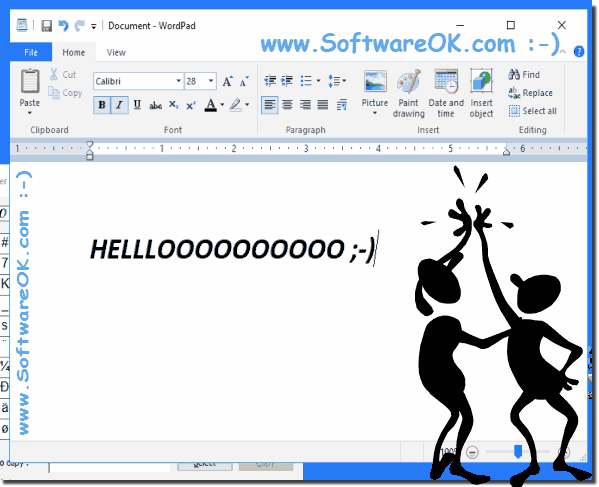 2.) Is Microsoft's WordPad writing program sufficient for me?
WordPad is a very useful text editing tool and is always included with Windows for free.
With this advanced Notepad you can create, edit, view and print text documents, for some users it is a sufficient text editing program. 
With the release of new Windows 11 / 10 versions, WordPad is more comprehensive and has more features. 

For a quick author, who has no Microsoft Office programs such as MS-Word, this can help to quickly write texts and it is absolutely free, you can use it to create and edit documents, include rich formatting and graphics, and you can link to or embed objects, such as pictures or other documents.



3.) ... More information about the free writing program for Windows 10!
There are many lists on the Internet of the best free writing software for Windows. You can use this software for both general and creative writing purposes with a variety of tools that they offer. All of these programs have some special features that you need to pay attention to. You can go through the list and find the one that suits your needs.  
Some of them are good writing software that offer a minimal interface so you can focus on writing. In many of them, you can write for special projects like novels, comics, stories, research, etc. by providing key elements that you can add to. For example, you can write a novel or story with characters, locations, scenes, actions, etc. With some of them you can also write media projects like screenplay, stage play, theater etc.
To import a file into the current project, most of this freeware support the formats TXT, RTF, DOC etc. You can export a project in all these formats and PDF, HTML, XPS etc. In some of them, you can even assign a specific file type for import and export.
(Image-3) Run Writing Program APP for Windows 11!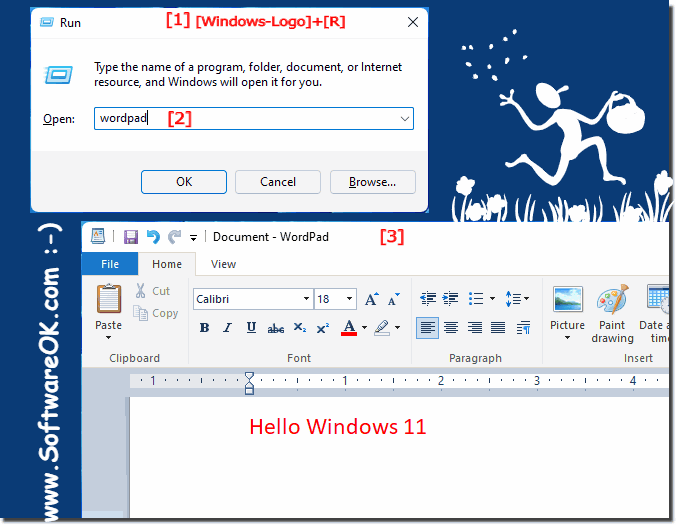 4.) ... Which free writing programs are still available?
Info:
Writing is not easy. Luckily, there are all sorts of apps that simplify the process by helping you stay organized and focused. Whether you write for a living or just write a shopping list, these free apps for writers will help you complete your project with ease.


There are several free writing programs that can serve as an alternative to paid word processing software such as Microsoft Word or Apple Pages. Here are some free writing programs:
LibreOffice Writer:
LibreOffice is an open source office suite that includes a word processing application called Writer. It offers a wide range of features similar to Microsoft Word.
Apache OpenOffice Writer:
Similar to LibreOffice, Apache OpenOffice Writer offers a free word processing program similar to Microsoft Word.
For texts and more OpenOffice: 
... good alternative to Microsoft's Office
!
Google Docs:
Google Docs is a web-based application offered by Google. It enables collaborative editing of documents in real time and offers automatic storage in the cloud.
Zoho Writer:
Zoho Writer is another web-based word processing application that allows you to store documents in the cloud and collaborate in real-time.
AbiWord:
AbiWord is a lightweight, cross-platform word processor that provides basic document creation functionality.
FocusWriter:
FocusWriter is a minimalist writing program that focuses on minimizing distractions and helping writers focus on their writing.
WriteMonkey:
WriteMonkey is another minimalist writing program that focuses on focusing on writing and eliminating distracting elements.
Joplin: Joplin is a note-taking and word processing application designed specifically for Markdown. It is good for writing notes and creating text in Markdown format.
Notepad++:
Although Notepad++ is more of a text editor than a word processor, many people use it to write code and simple text documents. It is free and offers a variety of plugins to extend its features.
For developers Notepad++: 
... http://notepad-plus.sourceforge.net/
FocusWriter:
FocusWriter is a minimalist writing program that minimizes distractions and promotes concentration on writing.

These programs offer different features and interfaces, so you should choose which one is best for you depending on your individual needs and preferences.


5.) How to Write a Letter with WordPad: Step-by-Step Guide!
Open WordPad:
Open the Start menu and type "WordPad." Click the WordPad icon to open the program.
Recipient and subject:
Enter the recipient of the letter in the "To" line. Enter the subject of the letter in the "Subject" line.
Insert text:
Enter the text of the letter into the blank document.
Format letter:
You can format the letter as you wish. Change e.g. B. the font, the font size and the alignment of the text.
Save letter:
Click the "File" button and select "Save As." Enter a name for the letter and select a storage location.
Print the letter:
If you want to print the letter, click the "File" button and select "Print." Select a printer and set print settings.
Other tips:
If you want to add a date to a letter, enter the date in the "Date" line.
If you want to start a letter with a greeting, type the greeting in the first paragraph.
If you want to end a letter with a farewell, include the farewell in the last paragraph.
If you want to send a letter to multiple recipients, enter the names of all recipients in the "To" line.